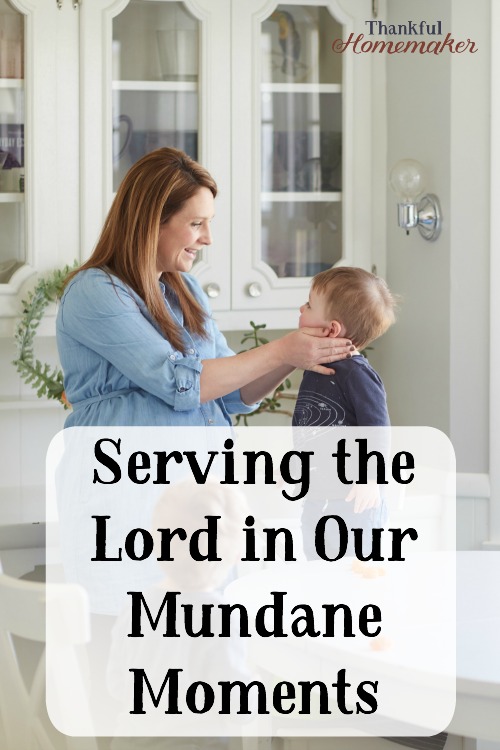 Our lives are lived in the mundane moments. It's in the dishes and laundry and caring for our families where we find ourselves spending most of our days. There are always messes to clean up, bills to pay, emails to answer, needs to be met, phone calls to make, floors to wash and rooms to be dusted. We care for our families by also caring for our homes. They go hand in hand. Washing clothes and making meals are ways we care and show love for one another.
It seems this is where our primary ministry takes place and why the Lord gave us those lovely verses in Titus 2:3-5:
3 Older women likewise are to be reverent in behavior, not slanderers or slaves to much wine. They are to teach what is good, 4 and so train the young women to love their husbands and children, 5 to be self-controlled, pure, working at home, kind, and submissive to their own husbands, that the word of God may not be reviled.
We all like to be made much of and noticed. It seems to be part of our human nature at heart so those verses in Titus 2 can be challenging when they aren't areas that get much attention or notice from the world. Again, it doesn't mean we have no work outside the home, but even if we are employed outside our homes, we still are called to be "working at home."
What we see as routine, the Lord sees as His hand in molding us more into Christlikeness.
What we see as routine, the Lord sees as His hand in molding us more into Christlikeness.
One verse to be reminded of often is Colossians 3:23:
Whatever you do, work heartily, as for the Lord and not for men,
The verse in its context is referring to slaves in relation to their masters, but it is still relevant to us today in the way of the Christian to their employer or in our homes as we look to God as our employer.
Colossians 3:17 reminds us:
And whatever you do, in word or deed, do everything in the name of the Lord Jesus, giving thanks to God the Father through him.
This verse along with Col 3:23 makes our duties in our homes so clear as to what our attitudes, motive, and conduct should be while we are carrying them out. "Whatever we do." What is whatever? Cleaning, cooking, caring for our children, loving our husbands, dealing with trying circumstances and the list of the duties in our homes is never-ending.
As Christians, our lives are lived in Christ, every moment. Are we mindful that everything we are doing we are doing for Christ? When we find ourselves grumbling about the long chore list or spilled milk, do we see it as complaining to the Lord?
We live in God's home. He owns it. He has gifted it to us and given us the job of stewardship over it. He's put us in charge, and we are responsible to Him.
As believers, it should make us work harder, and we shouldn't desire to escape from work or difficult situations because we know they are all with a purpose and we also know we are equipped to meet these situations in Christ.
"If a man is called to be a street sweeper, he should sweep streets even as Michelangelo painted, or Beethoven composed music, or Shakespeare wrote poetry. He should sweep streets so well that the hosts of heaven will pause to say, 'Here lived a great street sweeper who did his job well.'" ~ Unknown
We need to look at every situation through the eternal. We can get easily caught up in the temporal.
So let's begin today with our eyes on the eternal. That we would do all our work as unto the Lord and without grumbling and complaining. There is no distinction in God's Word between the secular and sacred. If we're in Christ, everything is sacred.
When we live in the reality of the gospel, we can love and serve others just as Christ did. We can find joy in the reminder that  Jesus died the death I deserve and has enabled me to live a life that now honors and serves Him. 
There is no distinction in God's Word between the secular and sacred. If we're in Christ, everything is sacred.
I am reminded of the quote from Jim Elliot – "Wherever you are, be all there! Live to the hilt every situation you believe be the will of God". It's a reminder that wherever we are or find ourselves may we give it our best and give thanks to the Father in and through all things (1 Thess 5:18).
"If God doesn't rule your mundane, then he doesn't rule you. Because that's where you live."

~ Paul Tripp
These everyday moments are where the Lord continues to grow us in holiness. It's in the ordinary moments we are being transformed more into the likeness of His Son. As Gloria Furman states it so beautifully in the title of her book, these are glimpses of grace. His grace.
"We don't do very many grand and significant things in our life.  Most of us will not be written up in history books.  Most of us will only be remembered by family and perhaps a few friends.  Most of us will be forgotten in two or three generations after our deaths.  There simply are not many grand moments of life, and we surely don't live life in those moments.  No, we live life in the utterly mundane.  We exist in the bathrooms, bedrooms, living rooms, and hallways of life.  This is where the character of our life is set.  This is where we live the life of faith."
~ Paul Tripp, Age of Opportunity: A Biblical Guide to Parenting Teens