Tomatoes in a Vinaigrette with Feta Cheese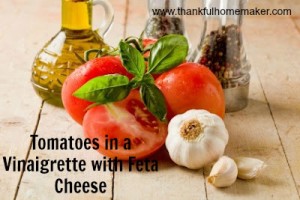 We have enjoyed a fresh, healthy way to eat up all those fresh tomatoes that summer gardens and farmers markets will be producing this summer. Sliced fresh tomatoes with a balsamic vinaigerette and crumbled feta cheese.
Here's the recipe:
Tomatoes in a Vinaigrette with Feta Cheese
Tomato slices
Red onion slices
Capers
To make the balsamic vinagerette:
1/2 cup Balsamic Vinegar
1/2 cup Olive Oil
2 fresh cloves of garlic minced
pinch of sea salt and pepper
Mix together and set aside
(you will have extra dressing to use on sauteed grilled vegetables or for your salad – you can also half the recipe if you don't want leftovers)
Assembly:
Slice at least three tomatoes to whatever thickness you would like. Place in a shallow dish (I use a shallow pie pan), add onions, capers and whatever else you would like in it. Pour dressing over until you think it's enough and top with crumbled feta to your liking. I make it fresh and serve it immediately – we are not soggy tomato lovers.
Enjoy!