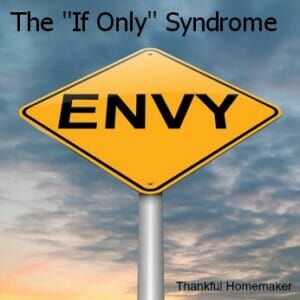 "The cure for the sin of envy and jealousy is to find our contentment in God."
~Jerry Bridges
How many times have you thought or said any of the following:
If only I had children.
If only I was married.
If only we had a bigger house.
If only my husband was a godly leader.
If only I were prettier, or thinner.
If only I had her wardrobe.
If only we had a larger income.
If only _________________ (you fill in the blank)
Many times when we actually get the "if only" it doesn't satisfy and along comes the next "if only" in our lives.
"We can live for something other than what we have or want; we can live for God. When we pour our desires away from ourselves and into God and His purposes instead, we find a deep satisfaction that nothing else can give us. Ironically, we will also find that our clamor for the next thing has somehow disappeared."
~Lydia Brownback, Contentment: A Godly Woman's Adornment


May we fix our eyes on Christ and Him alone. He is the only One who can satisfy and bring true contentment. Until you learn to rest in Him and in Him alone on the calling He has for your life you will never find true contentment. Don't compare yourself or your situation to anyone else's – there is no satisfaction in this way of thinking. Don't think everyone should be doing what you're doing. (Great book on that one is Accidental Pharisees)
Look to the interests of others and ask God to help you rejoice with those who rejoice (Romans 12:15). Pray and ask Him to remove those feelings of jealousy or envy (Galatians 5:19-21). Pray and give thanks in all circumstances (1 Thessalonians 5:18, Ephesians 5:19-20).
Keep your eyes on the straight path He has set before you. Don't look at your neighbors path, the path of the lady sitting next to you at church or your best friends path. Keep your eyes on your path and the calling He has on your life.
"Gratitude is a handmaiden of contentment. An ever-growing attitude of gratitude will certainly make us more content since we will be focusing more on what we do have, both spiritually and materially, than on what we do not have. But contentment is more than focusing on what we have. It is focusing on the fact that all we do have; we have by the grace of God. We do not deserve anything we have, materially or spiritually. It is all by His grace."
~Jerry Bridges
Not that I am speaking of being in need, for I have learned in whatever situation I am to be content. I know how to be brought low, and I know how to abound. In any and every circumstance, I have learned the secret of facing plenty and hunger, abundance and need.
~ Philippians 4:11-12 ~
Related Resources:
Got Poked in the Eye by Accidental Pharisees
The Green Eyed Monster