When the Days are Overwhelming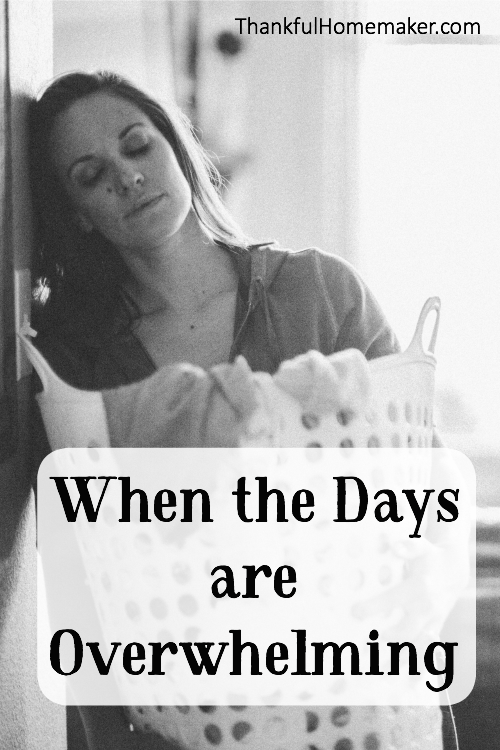 I lift up my eyes to the hills.
From where does my help come?
My help comes from the LORD,
who made heaven and earth.
Psalm 121:1-2
My daughter just had her second baby a little over a month ago, so she now has two both under 19 months. I want to share what I shared with her on one of those days that everything seemed to be piling up and the feeling of being overwhelmed was taking over. It's my favorite quote I heard from Elisabeth Elliot and I know I overuse it but there is much wisdom in it, "Do the next thing."
That's it – nothing profound -doesn't instantly remove all the things piling up but it helps to give them a priority.
As I encouraged her to, I encourage you on those days to just take a moment to do the following:
1. Pray – ask the Lord for help and rest in His peace and presence.
2. Meditate on a scripture passage that brings you comfort in the storms of life. Keep scripture up on the walls of your home. Great areas are in the bathroom, by the kitchen sink or over the washer and dryer. (Phil 4:6-7, John 16:33, Psalm 121)
3. Make a list of all the items you have to do. List each one no matter how small or insignificant sounding. (I even write things down like taking a shower).
4. The purpose of the list is not to overwhelm you more. The purpose of the list is to take the items off your mind so you can focus on the needs of the moment. Once they are written down, you can have a visual of where to start and also see what you are accomplishing. The list helps you in delegating chores where other family members can help, and it lets you see what you can do if you only have five or ten minutes to accomplish a task.
5. Ask for help when needed or take help when it is offered. We are the body of Christ, and we are called to encourage and lift one another up when needed. It is a blessing to others in the family of God to be able to serve their sisters in the faith.
Is there someone in your life that is feeling overwhelmed? Can you be a blessing to them today? Take the time to pray with them, send a card, or take over a meal. Offer to clean house, do laundry, grocery shop, or watch little ones while mama takes a nap. Sometimes just knowing someone cares is a help in itself.
If you are an older woman take the time to fulfill your role in helping the younger women (Titus 2:3-5). I am thankful to be close to my daughter in relationship and location that I can be there when she needs some help and someone to love on her. You may be the needed help to a younger woman who doesn't have her mother close to give her support and encouragement in her role when she needs it.
I believe that one major reason that the church of Jesus Christ in the United States is very close to being in sheer chaos today is because so many people think themselves as individuals rather than as part of the body of Christ. Christianity is not "every man for himself;" it's every man together for Christ.~ Wayne Mack ~
Please share with us how do you deal with those moments where you feel overwhelmed?
Related Resources: