Thoughts on the Cross Centered Life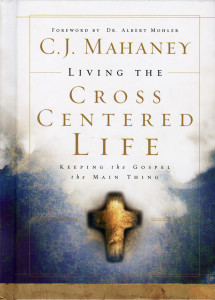 I have been revisiting a
book
I love to read yearly as the message of the cross is one I will never grow tired of hearing. I know it sounds simple that the cross is to be at the center of our Christian lives but how many times does it become secondary? This small, truth packed book points me back to the cross and helps me to assess my own heart and affections towards the only One who is due my heart and affections. May you as Mr. Mahaney would say, "Keep the Main Thing, the Main Thing". May Christ be your greatest treasure.
"To grow in your passion for what Jesus has done, increase your understanding of what He has done."
"Never be content with your grasp of the gospel. The gospel is life-permeating, world-altering, universe-changing truth. It has more facets than any diamond. Its depths man will never exhaust."
"In the midst of our various responsibilities and many possible areas of service in the kingdom of God, one overarching truth should motivate all our work and effect every part of who we are: Christ died for our sins."
"Only when we understand God's wrath toward sin can we realize that we need to be saved from it. Only when we hear the bad news that we're deserving of judgment can we appreciate the good news that God, through His Son, has provided salvation and full, continuing forgiveness for our sins. Only those who are aware of God's wrath are amazed at God's grace."
"What joy the gospel gives me! I can approach the throne of God with confidence—not because I've done a good job at my spiritual duties, but because I'm clothed in the righteousness of Jesus Christ."
"Because of the gospel's power you can be completely free of all condemnation. Not mostly free; completely free."
"If you're single, live a cross centered life. If you're married, build a cross centered marriage. If you have children, practice cross centered parenting. The 'practical' stuff flows from the 'central' stuff … May the reality of what God has done for you continue to be the most captivating thought in your mind … and may the truth of Christ's death for you always be the most precious treasure in your heart."
"The glory of the gospel is this: The one from whom we need to be saved is the one who has saved us."
~R.C. Sproul
"Now I would remind you, brothers, of the gospel I preached to you, which you received, in which you stand, and by which you are being saved, if you hold fast to the word I preached to you—unless you believed in vain.
For I delivered to you as of first importance what I also received: that Christ died for our sins in accordance with the Scriptures, that he was buried, that he was raised on the third day in accordance with the Scriptures,
1 Corinthians 15:1-4
Recommended Resources: