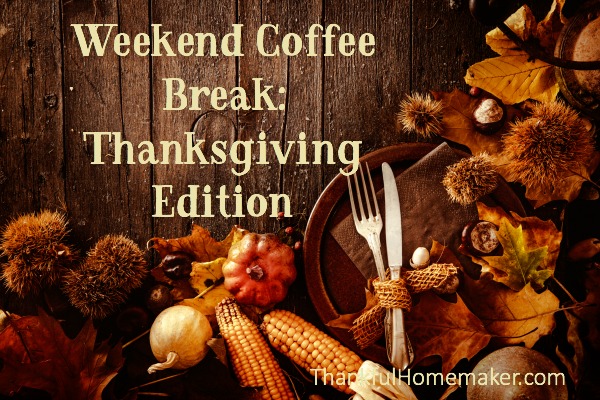 To Read:
Making the Most of Turkey Time: Thanksgiving on Mission – @Desiring God
So before bellying up to this year's turkey feast, here's a few thoughts from a fellow bungler to help us think ahead and pray about how we might grow in being proxies for the gospel, in word and deed, among our families this Thanksgiving. These are some practical ideas for what it might mean to see ourselves as sent among our relatives.
Stirring Up Gratitude Through Contentment (Or Is It The Other Way Around?) – @Sally Clarkson
How must our loving God feel when we don't choose to celebrate this life He has given us to subdue? God is available, prepares for us each day, wants to shower us with His love, grace, compassion, wisdom, but often we are too busy or self-centered to notice Him and to "be" with Him.
The First Five Seconds of Thanksgiving – @Your Mom Has a Blog
My Thanksgiving Day started out in a way that I will remember for the rest of my life. Nothing dramatic, nothing all that fascinating. But, the first moment of the day was special.
Why We Should be Thankful for the Gift of Gratitude – @The Gospel Coalition
Of all the heavenly gifts we have to be thankful for, the most frequently overlooked is the gift of gratitude. From the ants to the elephants, God has poured out his blessings on all his creatures. But to man alone is reserved the ability to combine reason and imagination to express his thankfulness.
At The Blog:
Simple Planning Guide for a Stress-Free & Christ-Focused Thanksgiving Dinner
Our Simple Thanksgiving Traditions (and my holiday dinner menu)
To Listen:
EP 67: Simple Ideas for a Christ-Centered Thanksgiving @ThankfulHomemaker
Enter His Gates with Thanksgiving (Psalm 100) – @Revive Our Hearts
What kind of worship is God calling you to? Nancy DeMoss Wolgemuth will take you through Psalm 100 to see why God is so worthy of our joyful thanks. Find out why we need to give thanks to God and how we should give thanks.
The Attitude of Gratitude – @Revive Our Hearts
Are you a grateful person? What difference does gratefulness make? Nancy explains how your physical, emotional, and spiritual well-being and your relationships are affected by whether or not you have a grateful heart.
Proud People Don't Give Thanks – @Ask Pastor John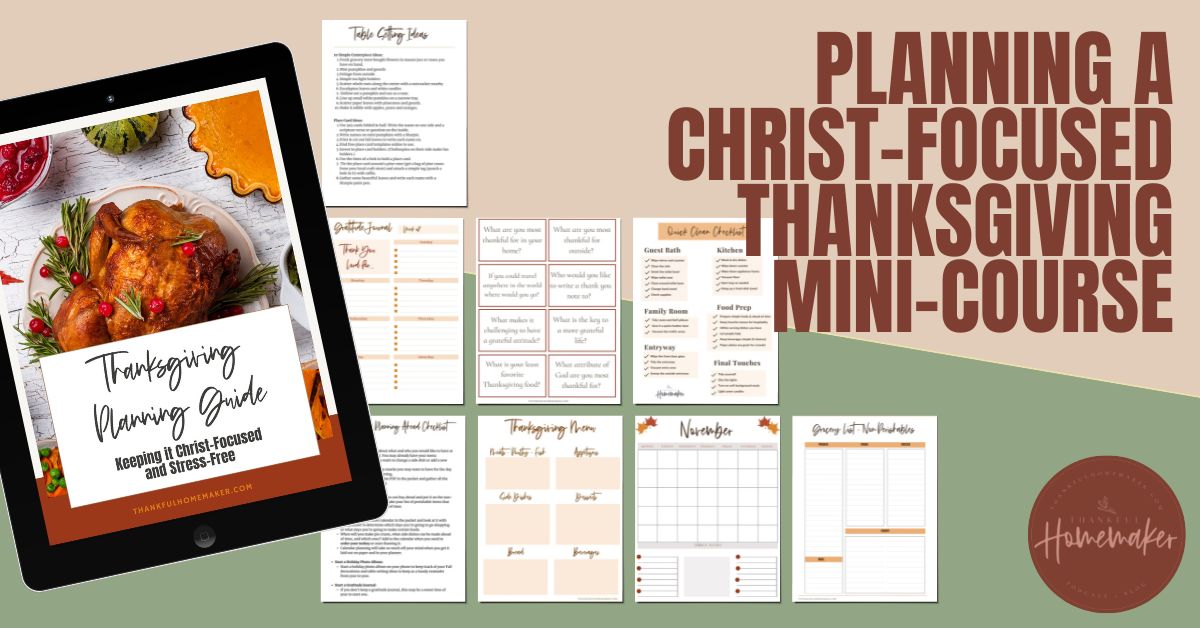 To Watch:
A Reason for Thanksgiving -@Alistair Begg (5:46 minutes)
In Everything Give Thanks – @John MacArthur (22:29 minutes)
What's the Truth About the First Thanksgiving – @PragerU (6:00 minutes)
For Your Family Bookshelf:
Thank You, Sarah: The Woman Who Saved Thanksgiving by Laurie Halse Anderson
Squanto's Journey: The Story of the First Thanksgiving by Joseph Bruchac
An Old-Fashioned Thanksgiving by Louisa May Alcott
Over the River and Through the Wood by Lydia Maria Child
To Ponder:
Thanksgiving is a moment to express profound, deep, sincere and genuine gratitude to the providence of God for a year's worth of tender mercies that we have received from the hand of His benevolence. From His care, from His comfort, from His guidance, from His government of our lives, we are to take time to be grateful.

~ R. C. Sproul
15 And let the peace of Christ rule in your hearts, to which indeed you were called in one body. And be thankful. 16 Let the word of Christ dwell in you richly, teaching and admonishing one another in all wisdom, singing psalms and hymns and spiritual songs, with thankfulness in your hearts to God. 17 And whatever you do, in word or deed, do everything in the name of the Lord Jesus, giving thanks to God the Father through him.
~ Colossians 3:15-17
Happy Thanksgiving Friends!
SaveSave
SaveSaveSaveSave