Our Simple Thanksgiving Traditions
Inside: Thanksgiving is a sweet time to recognize as a family and express appreciation for all the benefits we've received from God and others.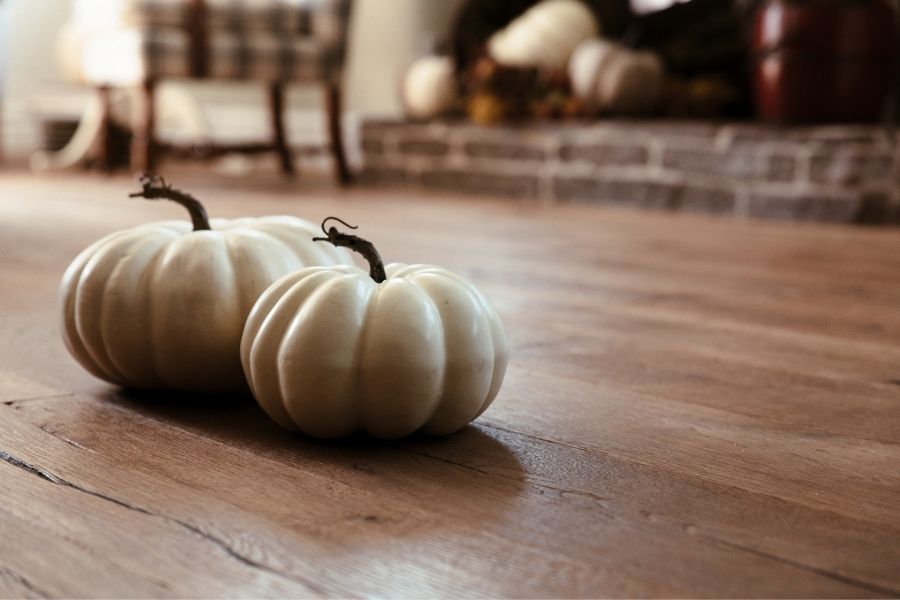 Thankfulness to God is a recognition that God in His goodness and faithfulness has provided for us and cared for us, both physically and spiritually. It is a recognition that we are totally dependent upon Him; that all that we are and have comes from God.

~ Jerry Bridges
I love the change of seasons that comes with Thanksgiving. I think of cozy evenings in warm blankets by a fire sipping hot cocoa, and reading a good book. I'm really good with the realization that I'm probably going to be spending more time inside than outside. I love the changes fall brings to my wardrobe. Sweaters and scarves and fuzzy, warm slippers. Basically, I love fall!
I've always enjoyed preparing meals for the holidays and hosting family and friends for these special occasions in our lives. Even as a non-believer, I enjoyed Thanksgiving and had various traditions that we did to remind ourselves that we had much to be thankful for.
Enter Jesus into our lives after many years of life and marriage and children without Him, and He changes everything about celebrating the day. Once your eyes are opened to the gift of eternal life through the Gospel of Jesus Christ, everything is viewed through a different lens. God's undeserved mercy and grace bestowed upon me is one that should remind my heart to respond to the Lord with heartfelt, humble gratitude. Every moment that I'm failing to choose gratitude, I'm choosing ingratitude by default.
Thanksgiving is a time to express appreciation for all the benefits we've received from God.
Thanksgiving is a sweet time to recognize as a family and express appreciation for all the benefits we've received from God and others. I want to share with you today some ways we've chosen to celebrate the Thanksgiving season so we can keep our hearts focused on the Lord's goodness to us in all things.
And let the peace of Christ rule in your hearts, to which indeed you were called in one body. And be thankful.

~ Colossians 3:15
Our Simple Dinner Menu:
I'm a creature of habit, so when we find a menu that works for holiday meals, we stick with it and don't go off-course too often.
On the Menu:
Roasted Brined Turkey – (It's a bit of extra work, but the turkey is so juicy when it's brined.)
Sweet Potato Casserole – (I mash baked and peeled sweet potatoes and add some maple syrup and lots of butter, and of course, you can't forget the marshmallows!)
Green Bean Casserole– We may be switching to sauteed green beans this year.
Mashed Potatoes – (Pioneer Woman's recipe – cream cheese, butter, and half & half – they are so good it's like dessert, plus we obviously can't get enough potatoes, lol.)
Crock Pot Stuffing – (This recipe is so good, and I modified it, so it doesn't use the oven. Just cook the sausage and add in the onions and celery to soften on your stovetop. Mix all ingredients – I've never used the turkey liver, and it's still really good – I also use chicken broth – in a large bowl and transfer to your crockpot for 4-6 hours on low. I like to cook it on high for the first 30 minutes and then turn it to low.)
Cranberry Sauce – (I know it's a lot of maple syrup, but it's so worth it!)
Gravy – ( I always keep a good quality canned gravy on hand in case I botch it.)
Rolls – (I cheat and buy good rolls.)
Pumpkin Pie – (I'm cheating this year and buying one from Costco – the horror! Otherwise, I just use the recipe on Libby's can.)
Chocolate Pie – (It's a simple family recipe using a baked pie crust (or a graham cracker or Oreo crust) filled with a large box of cooked chocolate pudding using 3 cups of milk, 1/3 cup of chocolate chips and 2 T butter added to it. Bring to pudding mix just to a boil, let cool for five minutes, and pour into your 10-inch crust.)
Pumpkin Roll – (My dear mother-in-law made this every year, and we've not had it since her passing, so I really want to work on getting it on the menu this year in place of pumpkin bars. She is still greatly missed.)
Follow my Thanksgiving Board on Pinterest here.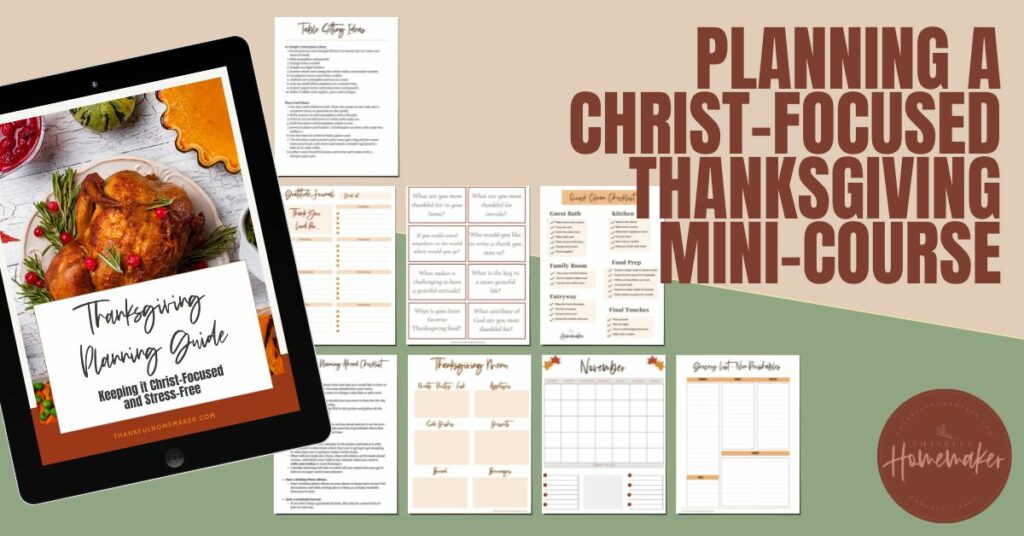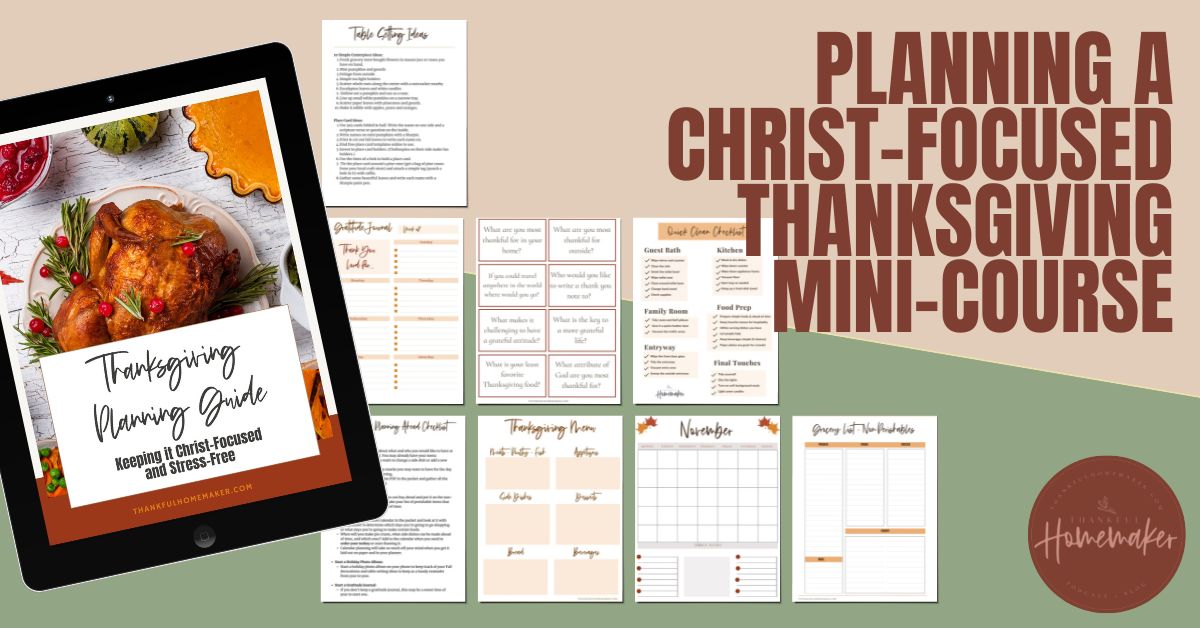 What's On Our Table:
We use the same tablecloth every year, and everyone writes on it with a fabric marker something they are thankful for. It is fun to look back over the years and see what everyone has written or drawn.
I use my fancy dinner plates and enjoy setting a pretty table with cloth napkins and a simple but festive centerpiece (usually, my daughter Amber takes care of this one for me). My fall table has fresh flowers, and I love using nuts in the shell and spreading them out around the table with a nutcracker handy. I love to make place cards with an encouraging note or bible verse on the back for every guest (this year, I'm using the napkin ties below instead of writing questions on the back of the place cards). Here's an old post with some photos from Thanksgiving at our home several years ago.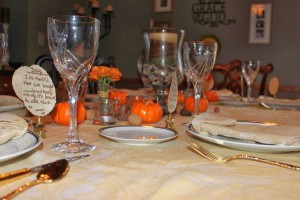 I'm using these adorable ribbon napkin ties this year from Ever Thine Home to facilitate some fun dinnertime discussion.
We'll read Psalm 100 as a family.
We'll read Squanto and some readings from a favorite book for many years now, Thanksgiving: A Time to Remember by Barbara Rainey.
The music playlist will be David Nevue from his Adoration CD.
We'll have a time of prayer together at the beginning and end of the meal and sing My Heart is Filled with Thankfulness by the Getty's together.
Preparing My Heart for Thanksgiving:
It's easy to get tied up in all the details it takes to prepare a meal on a larger scale, and I've learned, and continue to learn, the red flags of when my heart is distracted, and I've lost focus on the main purpose of celebrating Thanksgiving together as a family who loves the Lord. My heart's desire should be to point my family to Christ. Not to how great a cook I am or how well my table is set, or how clean my house is. The main purpose of celebrating Thanksgiving is to point to the goodness and kindness of God in redeeming us as His children.
God's will for us as believers is to give thanks to Him in and through all things (1 Thessalonians 5:18).
The main purpose of celebrating Thanksgiving is to point to the goodness and kindness of God in redeeming us as His children.
During this season, I like to go through Revive Our Hearts 30-Day Gratitude Challenge and read through Nancy DeMoss Wolgemuth's book called Choosing Gratitude: Your Journey to Joy. I continue to pray for the Lord to work in my heart to make me a more grateful person and not just to other people but mainly to Him. I pray I would lift up prayers of gratitude to Him throughout my days.
This season is a time for me to reflect and repent for my ingratitude and ask Him to make me mindful to thank Him in and through all things. All is the keyword there because it's not just the good things but the difficult situations that the Lord has done such a sweet work in my life to remind me that when my hope is in Him, there will always be a deeper and more profound sense of joy and gladness even in the midst of the most challenging situations.
May our Savior be exalted in our homes during this Thanksgiving season and throughout our lives. Choosing gratitude means choosing joy. May we be overwhelmed with thankfulness to Jesus.
Happy Thanksgiving, Dear Friends
"The problem with being thankful is not so much one of manners as it is of alertness to the facts, that is, simply having open eyes to what is true. And it is true that you and I deserve nothing good. No, more than that, we deserve everything bad – an eternity in hell."
~ Jim Elliff
SaveSave
SaveSave
SaveSave