3 Simple Steps to a Cozy Home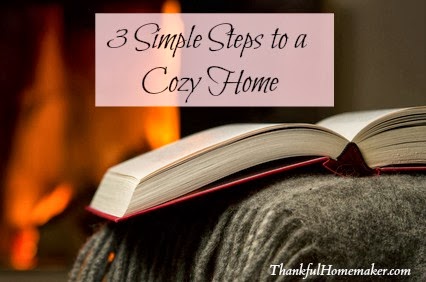 It is March and Spring will be here soon (I think) but while we still have some cold days ahead I wanted to share a few things I do daily to make our home have a cozy, warm feeling. I love comfy clothes, a warm beverage to sip on and the the glow of the fireplace. Sitting with a good book, playing a favorite board game or just relaxing with the family are all special moments I cherish in these winter months.
I have three simple things that I do everyday (winter, spring, fall or summer) that just always seem to bring a warmth to our home.
1. Light a pretty smelling candle or simmer some homemade potpourri.
2. Put on some beautiful music.
3. Soft lighting – (we love to use dimmers in our home and soft white light bulbs).



The best tip to a warm cozy home – put on love.
And above all these put on love, which binds everything together in perfect harmony. ~Colossians 3:14
Related Links:
Cultivating Beauty in Your Home
Homemade Christmas Potpourri – In Less than Two Minutes