Simple Real Food Snack Ideas – Baby Steps to Healthy Living Series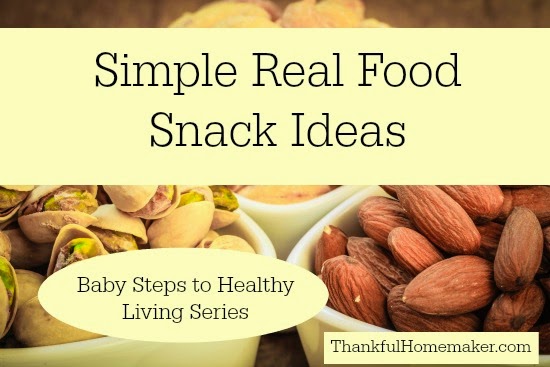 Finding snacks to have on hand that are easy, healthy and yummy can be challenging. The yummy part is easy but the healthy is where we lose it at our home. We go in seasons where the snack choices are all healthy and other seasons where maybe we've had get-togethers and that package of Oreos or potato chips or soda have snuck its way into the house again. How does that happen??? Serious!
Since starting the Baby Steps to Healthy Living Series it has helped me to be intentional in giving our cupboards and fridge a good cleaning out and revamping. I did lose some ground on New Year's Eve but I'm coming back strong and with a plan this time.
In our home, healthy snacking doesn't happen naturally. We like junk food. We grew up on it and I have a young adult son in the house who enjoys it. I have to plan and be intentional. I have always menu planned but have not been consistent in planning healthy snack ideas into our week. My hope is to have some regular items we turn to and just keep them stocked up and ready when the afternoon grumbelly hits.
The other benefit is if the snacks on hand are healthy it makes it quick to put several together and you have lunch – Voila! Our favorite lunches are cut up veggies, nuts, whole grain crackers, cheeses and meats with a piece of dark chocolate to end the meal.
Simple Healthy Real Food Snack List
Fresh fruits – Keep apples, bananas, grapes, berries, clementines, kiwi, cantaloupe, pears, plums and other fresh fruits on hand. Peanut butter is great on bananas and apples too.
Cut up Vegetables with Homemade Ranch Dip – Celery, carrots, peppers, cucumbers, radishes, broccoli, cauliflower or green onions. (Quick tip: save those veggies that don't get eaten up fast enough in the freezer in a baggie to throw in your next batch of vegetable-based soup.)
Brown Rice Cakes with real peanut butter or other nut butters – Either make it yourself or look for all natural nut butters.
Homemade Trail Mix – Keep a simple one on hand with a combination of your favorite mix of nuts, raisins, dried fruits, and unsweetened dark chocolate chips.
Hummus and Whole Grain Crackers – Good with cut up veggies too

Raw Nuts – Almonds, cashews, pecans, and walnuts. To boost the nutrition try making crispy nuts.
Tortilla Chips & Salsa
Guacamole – My simple recipe is to mash up the avocados and add some of our favorite salsa and a bit of sea salt to flavor.
Avocado – Yummy cut up with a bit of soy sauce.
Hard Boiled Eggs – My no-fail way to hard boil eggs is to put the eggs in a pan of cold water and bring to boil. Turn off the heat, cover and remove from burner. Set a timer for 15 minutes and after the time is up run cold water over the eggs for a bit and then fill the pan with cold water and ice cubes until they're cooled down. Store unpeeled in the fridge for up to a week.

Cut up Cheese Cubes – We do like to keep on hand some good mozzarella string cheese for quick snacking too.

Nitrate free Lunch Meats

Fresh Salad with Homemade Dressing

Popcorn – We make it on the stovetop in our popper and use 2-3 T Coconut Oil and after that's melted add 1/3 cup of popcorn kernels with a bit of sea salt. After popping toss in a bowl with melted butter and additional sea salt. We usually skip the butter because it's so good with just the coconut oil and sea salt.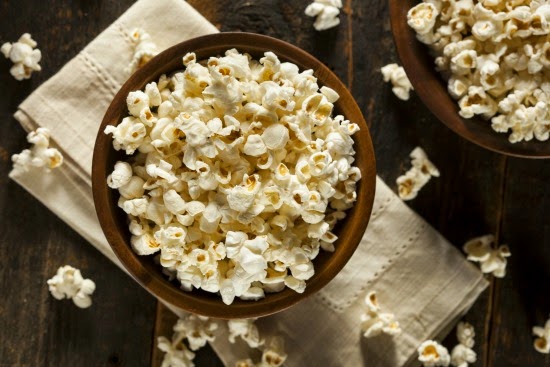 Microwave Popcorn – I am going to set up an area in the cupboard with supplies on hand to make this healthy homemade version of microwave popcorn. Check it out if you are good with using a microwave. I think it needs the larger brown paper lunch bags. When I try it I'll let you all know on Facebook how it turned out.
Whole Grain Pretzels
Dried or Fresh Figs – Good plain or with a bit of goat cheese
Plain Yogurt – Add a touch of honey and some fresh fruit
Smoothies – This was a handy chart to have on hand for some combination ideas.
Homemade Applesauce – Cook apples and add some butter and real maple syrup.
Pistachios – We always seem to have a bowl on the counter for snacking.
Unsweetened Raisins

Homemade Popsicles – Use your favorite popsicle mold and just add your favorite smoothie and freeze. This is a great way to get rid of leftover smoothies too.
Larabars – Either store bought or homemade versions.
No Bake Energy Bites – A favorite recipe here that gets made and share quite frequently.
Dark Chocolate – We have a square after dinner. It satisfies that sweet tooth craving.
Dried Fruit – Newman's brand is a favorite.
Date Rolls – So yummy they taste like candy. Another great option for a quick sweet after dinner.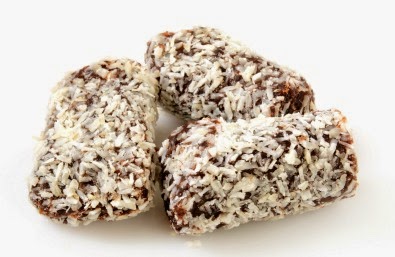 These are some snack ideas we're keeping on hand here. Kitchen Stewardship has some great eBooks if you're looking for more real food snack options.
What are some of your favorite real food healthy snacks to keep on hand?
Related Links