Book Review: Is God Anti-Gay?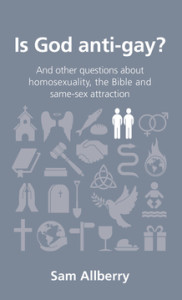 Is God anti-gay? is another book in the "Questions Christian Ask" series from the Good Book Company. For the size of the book it is a handy resource for Christians to have on hand as we are in the battle of the homosexuality debate. Sam Allberry shared that he struggles with the sin of same sex attraction so I appreciated how he handled the topic biblically, with compassion and without compromising truth.
This issue of homosexuality seems to be all around us today and when this book came up for review at Cross Focused Reviews I was looking forward to getting some questions answered on dealing with the sin of homosexuality in a culture that tends to glorify sin – all sin – not just homosexuality. This little book brings it back to the gospel, it is very Christ centered and offers hope to the individual struggling with this sin.
This short, clear and excellent book kept my attention and at 83 pages is easily read in under two hours. It starts off with what God's design for marriage is, takes us into the Word on what the Bible says about homosexuality and concludes with practical ways to witness to friends and family that are struggling with this sin.
What I gleaned most from the book was the reminder that homosexuality is a sin – we all have sin in our lives. Being reminded that I need to offer grace, search my own heart and still stay true to God's Word in dealing with the sin of homosexuality (or any other sin for that matter in my own life or another believer's).
This is a sin that as believers we can't disagree on. There are areas in scripture that allow for disagreements but as Mr. Allberry states:
"In Romans 14 Paul speaks about "disputable matters" and calls on his readers to be convinced in their own mind of what they think (Romans 14:5). But Paul also argues that there are other issues that are non- negotiable; issues where the gospel itself is at stake. In 1 Corinthians 15, he reminds his readers of the matters of "first importance" that he had earlier taught them and which stood at the the heart of their gospel faith (1 Corinthisns 15:1-11). Into which category does homosexuality fit? Does it affect the gospel? Two passages indicate that homosexuality is a gospel issue."

"We are not to tolerate in our churches those whose teaching leads people into sexual sin."
Homosexuality is sexual sin. Revelation 2:20-21 is very clear that judgment will fall on those false teachers who lead others into sexuality immortality.
My audience is to wives and mothers and I can highly recommend this quick, easy read to help you to dig a little deeper and be better equipped to handle this topic when it arises amongst your friends and family. After reading it you will be reminded that the "gospel is for everyone, and that God's ways are the best ways."
Le me leave you with the answer to the question in the title:
"Is God anti-gay? No.
But he is against who all of us by nature, as those living apart from him and for ourselves. He's anti that guy, whatever that guys looks like in each of our lives. But because he is bigger than us, better than us, and able to do these things in ways we would struggle to, God loves that guy too. Loves him enough to carry his burden, take his place, clean him up, make him whole, and unite him forever to himself."
I received a copy of this book from Cross Focused Reviews and The Good Book Company for an honest review.