Book Review: Did the Devil Make Me Do It?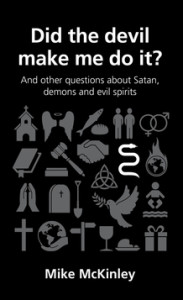 Did the Devil Make Me Do It? by Mike McKinley was a short, informative read on Satan, demons and evil spirits. It's from a series of books called Questions Christians Ask from The Good Book Company. If you find yourself asking a questions like, What power do demons have in the world today? Who is Satan? Where did he come from? What is demon possession?, then this compact little book will give you an introductory view taking you directly to the Scriptures to see what God's Word says.
The book is broken up in to five chapters:
Chapter One – Origins: Where did Satan come from?
Chapter Two – Activity: What is Satan like and what does he do?
Chapter Three – Control: What is demon possession?
Chapter Four – End: How did Jesus defeat Satan?
Chapter Five – Walk: How should we live in a world where Satan still prowls?
I have always heard that Isaiah 14:12-15 addresses the fall of Satan and never took the time to study the context of those verses for myself. Mike walks us through the context and shows how the verses are describing someone who is consumed with pride, they believe they can be like God, they die and are cast down into the dead. This is typically why we have assumed, without being "Bereans", that the verses are about the fall of Satan. Mike walks us though the context of Isaiah chapters 13-14 and shows us it is referring to the first prophecy being fulfilled against the nations that are hostile to Israel and these verses are applying to the fall of the King of Babylon not the fall of Satan.
"We may be able to detect something of Satan's activity and motivation lurking behind the king's pride, and perhaps this is why Jesus seems to echo this passage when he talks about Satan's fall in Luke 10:8. But we shouldn't understand Isaiah 14:12-15 to be an attempt to explain the devil's origins." ~ page 15
So where did Satan come from? The Bible isn't clear on his origins and there are many things that will remain a mystery to us. Mike reminds us to not speculate beyond the facts that we are given in God's Word.
One of my first introductions to the demon world was through The Screwtape Letters by C.S. Lewis. I was thankful for the little inset towards the end of the Did the Devil Make Me Do It? addressing the accuracy of the interaction between Uncle Screwtape and his nephew Wormwood. The Screwtape Letters makes us aware of the influence on demons in our life as believers but it is still a book that is recommended (as all books we read) to be read discerningly.
Overall I was quite impressed with the amount of material about the demonic world that was covered in this little book. Everything is addressed through the scriptures and as an introductory overview, it whet my appetite to learn and study more about spiritual warfare in the life of believers. This is a book I would highly recommend and I am going to keep some extra copies on hand to pass along.
Let me leave you with three important reminders from Did the Devil Make Me Do It?
"So, should we be aware of the devil? Yes.
Should we be alert to his motives and ways of working so that we can avoid him? Absolutely.
Should we be obsessed with him, looking for a demon lying behind every sin? No.
Should we tremble at his power and rage? Under no circumstances!"
~ page 76
"Satan's power and knowledge are limited; his doom is sure. He's not worthy of our time, obsession, and emotions. Instead we live with both of our eyes fixed firmly on Jesus, who has delivered us from the devil's wrath and given us a sure hope that we will one day be rid of him for ever."
~Mike McKinley
"For we do not wrestle against flesh and blood, but against the rulers, against the authorities, against the cosmic powers over this present darkness, against the spiritual forces of evil in the heavenly places." ~Ephesians 6:12
*I received a copy of this book from Cross Focused Reviews and The Good Book Company for an honest review.