Cherishing Alone Time With Your Husband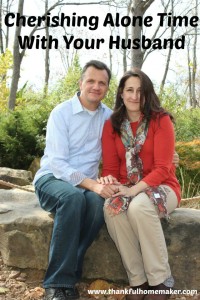 I'm tagging along this week with my husband on a business trip and I wanted to share a quick post on enjoying time alone with our husbands.
My husband travels quite frequently for business and as of late I've been able to be with him as this next season of our lives the Lord has us in allows me the freedom to pick up and go. I would like to share that it is an easy decision and that I just jump at the chance to go but unfortunately that is not always the case. I go but not always initially with a right heart. It is work to travel with him on his business trips. The days are long, there is much alone time left sitting in the car waiting for him between meetings and sometimes we miss meals (I like to eat so this one concerns me a bit – although I've been packing snacks). Packing and planning for those left behind at home takes time and work. It truly is easier to stay home. My selfish, sinful heart desires to do what is convenient for me.
Why Do I Go?
Because every time I go with him I am the one blessed. As I meditate on God's Word remembering to put the needs of others above myself and that I am my husband's helper, our time together is a sweet time of fellowship. As I pray and ask the Lord how I can serve him and love on him opportunities open up for conversation about things we wouldn't always have the time for at home.
We have time in the car to share dreams, read books, listen to sermons (although Wretched Radio is always a favorite) and talk about life together.
I love being able to eat meals with him so he's not alone, hold his hand and be with him in the evenings as we stay at the next hotel for the night.
Being Intentional
When you are blessed with those moments alone with your husband take the time to cherish them. Put aside all other cares and concerns and focus your attention on him. He is the most important relationship after the Lord in your life. So many times we can take our husbands for granted. I am always amazed at how quickly Doug can just focus his attention on me and how long it takes me to clear my mind to do the same for him.
So tonight, after babies are tucked in and the house is quiet – give your husband your undivided attention and let him know how thankful you are for him. Enjoy, cherish and honor him starting today.
The first negative judgment we find in Holy Writ is a judgment on loneliness. God said, "It is not good for man to be alone."
~ R.C. Sproul ~