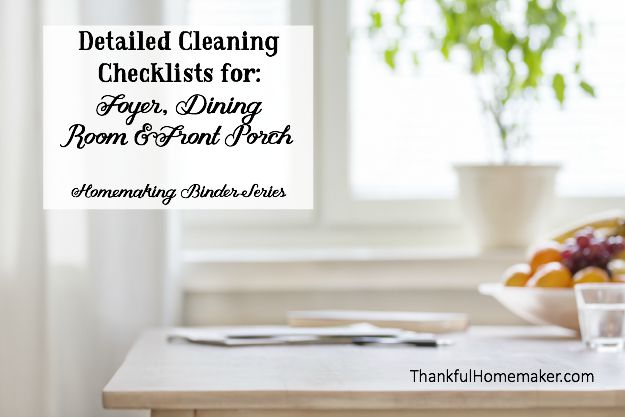 We have been working on putting together a simple Homemaking Binder for the care and upkeep of our homes.  If you're just joining in today,  this is the second post in a series of detailed cleaning lists for every room in your home.  If you missed the first post you can find it here.  (It is never too late to join in!)
In today's post I'm going to cover cleaning lists for your Foyer, Dining Room and Front Porch.
You can download the PDF of this list to just print, put in a sheet protector and add to your binder or you can copy, paste and edit the list below to customize it for your needs.  Check out all the details in the introductory post here.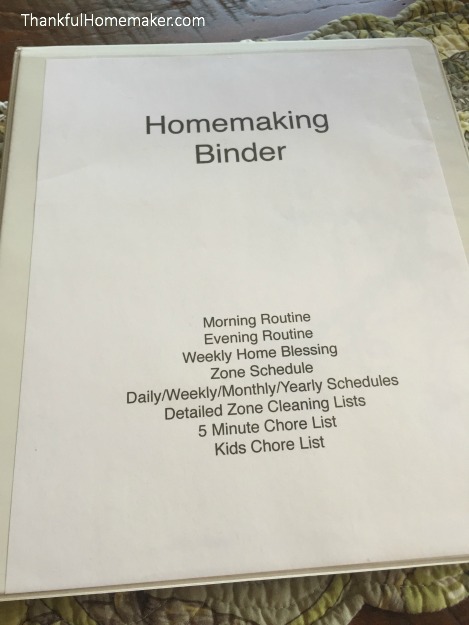 Detailed Cleaning List for Zone 1:
Foyer:
Dust windowsills and front door
Clean windows/switch plates
Dust display nook and foyer table
Empty staircase basket
Dust baseboards
Vacuum bench
Feather dust light fixtures
Tidy guest coat closet
Vacuum foyer rug and floor
Mop floor
Front Porch:
Sweep or shovel front porch if needed
Shake the front door mat
Wipe down the inside doorframe
Clean glass door window and window sidelights
Change wreath on front door if needed
Dining Room:
Dust windowsill and vacuum curtains
Clean glass doors in china cabinet
Wipe down the wood cabinets (exterior)
Feather dust light fixtures and pictures
Clean and polish the dining room table
Dust chairs and vacuum and spot clean cushions if necessary
Dust baseboards
Tidy one or two cabinet drawers of cupboards
Vacuum room
Mop floor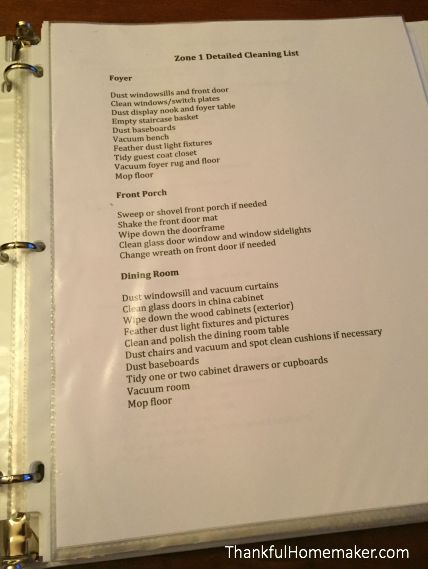 Follow Thankful Homemaker's board Homemaking 101 Series on Pinterest.
Join us in:
{you can subscribe to not miss a post in the series at the end of this post or on the sidebar of the blog – plus you get a free eBook too!}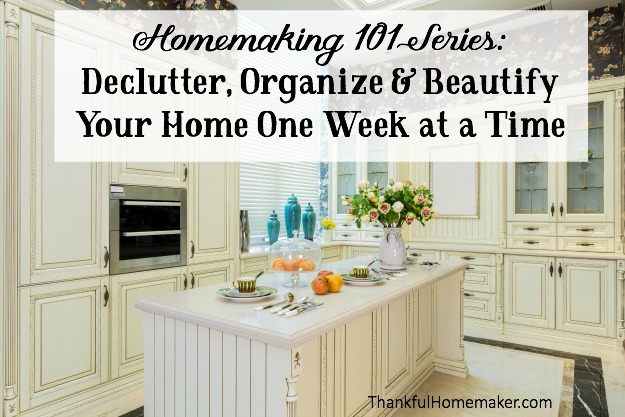 Related Posts:
My Homemaking Binder & Detailed Cleaning Checklists for: Kitchen, Pantry and Laundry/Mudroom
PDF Download of Detailed Cleaning List for Zone 1
PDF Download of Detailed Cleaning List for Zone 2