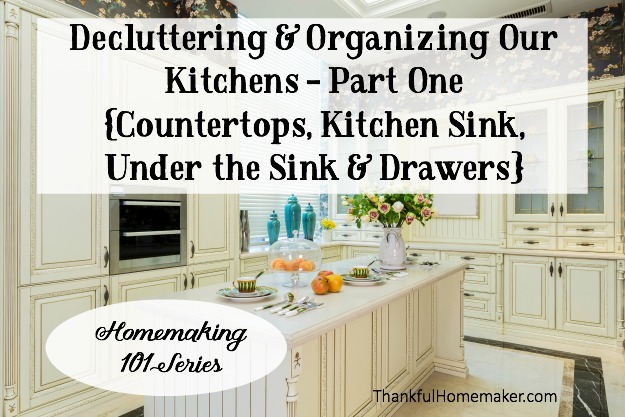 Your best memories probably come from sitting around someone's kitchen table – maybe yours, your mother's or your grandmother's.
The wonderful smell of cookies in the oven, something warm to drink and someone you love to sit and chat with.
I would love my kitchen to always be a place of warmth and hospitality.
Feeding and loving on others and most importantly
sharing the gospel
with lost friends and family have taken place around our kitchen table.
My hope is to make my kitchen warm, inviting and efficient.

Our kitchen does not look like the photo above as you will see in the photos below (Disclaimer: I am a terrible photographer). We have a very used and lived in kitchen. I am blessed with a lot of storage space and a walk in pantry. My kitchen still needs help to be more functional and easy to keep in order.
Please read through the whole post before you get started. A sample week of going through this part of our kitchen may look like:
Sample Week:
Monday – Take the time to plan as stated below. Declutter & Organize your countertops.
Tuesday – Clean under the kitchen sink and tidy two drawers.
Wednesday – Tidy and scrub your kitchen sink area and clean one drawer.
Thursday – Finish decluttering and organizing kitchen drawers.
Friday – Finish drawers and take an inventory and see what pretty touches you can add to your kitchen.
Saturday – Add whatever pretty touches you can. There are some fun ideas at the bottom of the post.
We are going to declutter and organize at the same time in the kitchen (see the introductory post here in case you missed it last week) by taking it one drawer at a time. I am encouraging you to spend at least 15 minutes a day this week decluttering and organizing. If you have some days with a bit more time time available that would be a huge help. When your kitchen is organized and everything has a place it makes the day to day clean up so much more efficient. The time you spend will be well worth it in the free time you earn from not living in clutter.
Special tips to beautify our kitchens will be posted at the end of every post to give you some ideas to beautify as you are working through your kitchen.

Planning
Before starting I recommend sitting and making a plan (I am a planner and a list maker). Take a moment to picture how you work in your kitchen. Where should the dishes and glasses be? Spices? Potholders? Canned goods? Baking items? Bakeware etc.? You probably already have some assemblance of order but if you are like me there is a little clutter and disorganization thrown in among the order.
How could it be more functional? Do you use your kitchen as a command center for your mail, kids papers, and your daily calendar and appointments? Do you gather with friends and family in your kitchen?
Picturing in your mind how you would like your kitchen to look and function will be a help as you get started in the organizing process.
Sections
We are going to break our kitchens down into sections so it is easier to manage and again we are not to get overwhelmed but take it 15 minutes a day.
Countertops
Kitchen Sink
Under the sink
Drawers
Kitchen table
Kitchen desk
Refrigerator
Cupboards
Pantry
We are starting small and in today's post are tackling countertops, kitchen sink, under the kitchen sink, and your kitchen drawers.
Supplies needed
• Timer – Remember try to work for only 15 minutes a day
• Garbage Bag
• Vacuum cleaner with crevice & dust attachments
• Cleaning rag
• Giveaway bag (Unopened pantry type food can be donated to your local food pantry and all other items can be taken to Goodwill or Salvation Army).
• Tablet to keep notes on for organizing ideas or items needed.
Countertops
I do store my large appliances in my walk in pantry. Items like my Kitchen Aid Mixer, Vitamix and Food Processor aren't used daily and they take up a lot of counter space. Sometimes I'm not sure I like my toaster on the counter but we use it a few times a week.
• Keeping your kitchen countertops clean and free of clutter is step number one in having a clean and orderly kitchen.
• Kitchen countertops are meant to prepare food so we are going to get them in shape to do that.
• Remove all unnecessary items. Keep only the items you use on an almost daily basis (coffee maker, toaster etc.). Keep any knickknacks to a bare minimum or not at all. I do have items on my counter I enjoy looking at – a perpetual daily calendar, pretty coaster, Willow Tree grandmother figurine and a flower vase.
• Store paper towels in a holder under the kitchen sink if possible.
• Clear the counters, clean the flat surfaces and the backsplash.
• As you put items back remember that the first line of sight into your kitchen are your countertops. Make sure they are functional and easy to clean with plenty of space left to prepare food.
• I have a cookbook holder that is a favorite item on my countertop to save space. (Cookbook in photo.)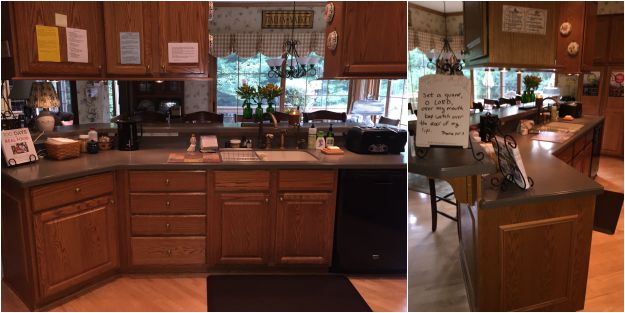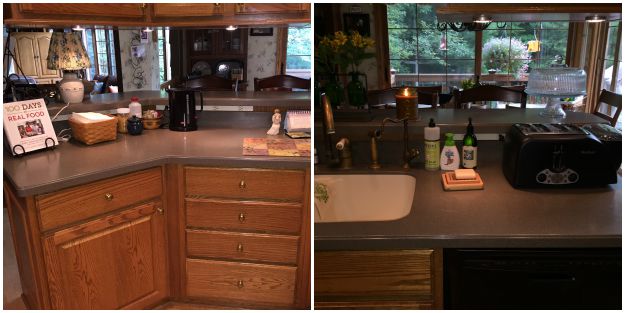 Kitchen Sink
• Make it a goal to wake up every morning to a clean kitchen sink. (see my Evening Routine)
• When all dishes are washed after dinner take the time to scrub down your sink with your dish sponge – wash and rinse your sink just like you would your dishes and you will wake up to a clean sink everyday.
• I use Bon Ami to clean my sink when it needs a good scrubbing and more than just a quick wash and rinse.
• Rinse your kitchen sponges well after using and air dry. Place them in the dishwasher to sanitize.
• Change your hand towels and dish towels daily. We keep our hand towel under the sink and the dish towel on the handle over the oven door.
• Make sure you keep your garbage disposal clean – great tips here.
• Keep only used items by your kitchen sink – Dishwashing liquid, hand soap, lotion, sponge and cloth to wipe the counters and table.
• Look for items to help organize your sink area. I like to have a dish drainer and a container to hold my sponge to dry.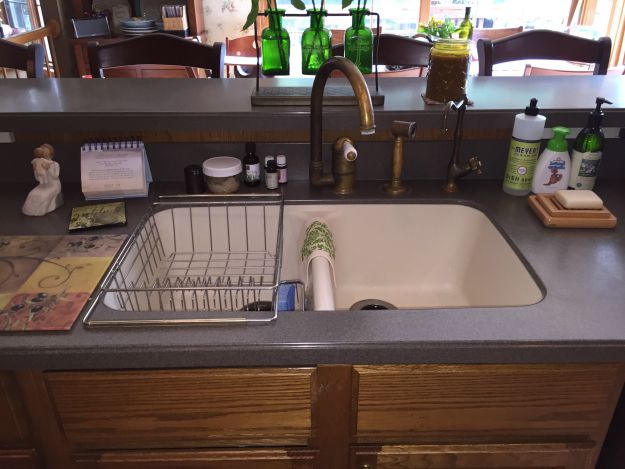 Under the Kitchen Sink
• Remove everything from under your kitchen sink.
• Clean under the sink well
• Take inventory of what you really need under the sink. Get rid of what you don't need.
• Use a lazy susan to organize your cleaning items
• Hang hooks inside the doors under the sink for cleaning rags or a hand towel.
• We have our garbage can, compost pail, paper towels and a lazy susan with cleaning supplies under the sink.
• Always keep extra garbage bags in the bottom of your garbage can to make changing the bag easy.
• Clean and scrub your garbage can even if it isn't under your kitchen sink.
Kitchen Drawers
• Start with one drawer at a time and work from top to bottom.
• Empty the drawer completely, clean it thoroughly (your vacuum can come in handy for this task) and only put back what belongs in that drawer.
• You will likely have a silverware drawer, one with plastic wrap, dish cloths, cooking utensils, measuring cups etc. Keep like items together and in a place that makes sense for you to access them.
• Take the time to give and throw away items you haven't used in a year.
• Dividers are helpful in kitchen drawers. Rubbermaid makes some great drawer organizers that are affordable in all sorts of sizes. Make sure you use a silverware tray to sort your silverware.
• Be creative and frugal in your drawer organizing by using small cardboard boxes or items you already have around the house like unused baskets.
• Put the items you use the most in the front of the drawer.
• Use plastic bags to keep items like twist ties or chip clip together in kitchen drawers.
• Drawers should be used for items that you access frequently.
• You can organize two drawers everyday. One after breakfast and one after lunch. It takes 5-10 minutes to empty, wipe and put the contents back in a drawer.
• Use your shallow drawers for items like silverware and utensils. Use your deep drawers for small appliances or storage containers.
• Your drawers should look simple and orderly when you open them.
• The more organized your drawers are the easier it is for other family members to put items away where they belong when cleaning up in the kitchen.
• Train your children to put items back in the proper place – remember they learn this skill best by watching us.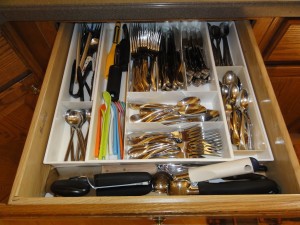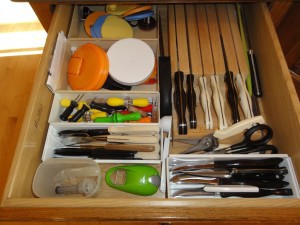 Let's Have Some Fun
We now have clutter free, tidy and organized countertops, sinks and drawers so lets have some fun making them appealing and enjoyable to look at.
• Your counters should reflect your personality and likes. Can you put some flowers in a beautiful pitcher or set a pretty candle on the counter.
• Add some music to your kitchen with a small bluetooth speaker, small CD player or your computer. Pandora and Spotify are popular online music choices.
• Everyone should dine with music and candlelight.
• Invest in some cloth napkins. We have a favorite cloth napkin folding book and even my men folk have fun folding napkins on occasion.
• Start switching over to natural cleaning products in the kitchen. I have a post here with some of my favorites.
• Pick up some new dishtowels or potholders for the kitchen if yours are in need of replacement.
• A pretty apron is always fun to put on when cooking.
• We use paper napkins on occasion and I enjoy keeping them in a pretty basket on the counter.
• Desserts on display in a pretty cake stand are a family favorite.
Next week's post we will be working on cupboards, kitchen table and the refrigerator.
Subscribe below or on the sidebar and never miss a post in the series plus you can pick up my free eBook too!
Related Posts:
Decluttering, Organizing & Beautifying Our Homes One Week at a Time (Intro Post)
Declutter & Organize Our Kitchens Part Two
Declutter & Organize Our Kitchens Part Three
Homemaking 101 Series
My Favorite Natural Cleaning Products
My Homemaking Binder