Family Favorite Oil and Vinegar Salad Dressing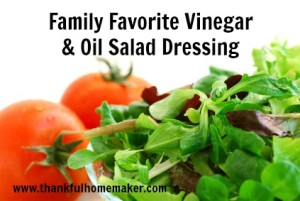 This is a quick, easy and tasty salad dressing that we turn to time again for our salads. It's great on freshly sliced tomatoes too. I recommend adding some fresh ground pepper after you add it to your salad. The ingredients are always on hand so it's quick to whip up a batch. This dressing keeps very nicely for up to three weeks in the fridge.
Oil and Vinegar Dressing:
1 cup Olive Oil
1/2 cup Apple Cider Vinegar
1 teaspoon Italian Seasoning (you can get creative here)
1 teaspoon Onion Powder
1 teaspoon Sea Salt
2 T Mustard of your choice- we use honey mustard
3 cloves of minced garlic
Mix it all together in your favorite salad dressing container and store in the fridge. Enjoy!
Don't miss out on the Healthy Food eBook Bundle this week!