I picked up a copy of The Homestead Blessings Cookbook quite a while back and it has become a family favorite. I love the photos and stories they have along with the recipes.
This recipe has become a favorite, especially when feeding a large crowd on a budget. The lentils give it such substance it tastes like you are truly eating meat. Your menfolk won't know the difference and the taste is just delicious!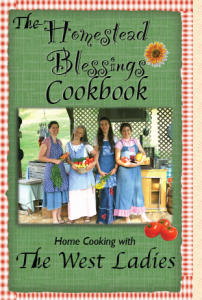 This recipe is taken from The Homestead Blessings Cookbook – Enjoy!!
Sloppy Joe Lentils
6 cups water
2 cups lentils uncooked
2 onions chopped
3-4 Tablespoons olive oil or coconut oil
4 cups chopped fresh tomatoes or 1 quart canned tomatoes
4 cloves of garlic
2 – 6-ounce cans of tomato paste
1 cup ketchup
2 tsp. mustard powder (I added 2 Tablespoons fresh mustard)
6 Tablespoons Chili Powder
1 dash Bragg's Liquid Amino
Salt & Pepper to taste
Put lentils in the water on high heat and bring to a boil then let simmer 20 minutes or until tender. Drain lentils and save the liquid. In oil, cook onions until clear, add garlic and everything else. Cook all that together real good, about 20 minutes. Take sauce off the heat, mix lentils and sauce together. Add any rescued juice from lentils only as needed.
We enjoy them open-faced on a slice of whole wheat bread with shredded cheese on top. Serve it up with a fresh salad, some cut up carrots, a slice of watermelon and a glass of sweet tea!