Podcast EP 62: Gleanings from the Life of Susannah Spurgeon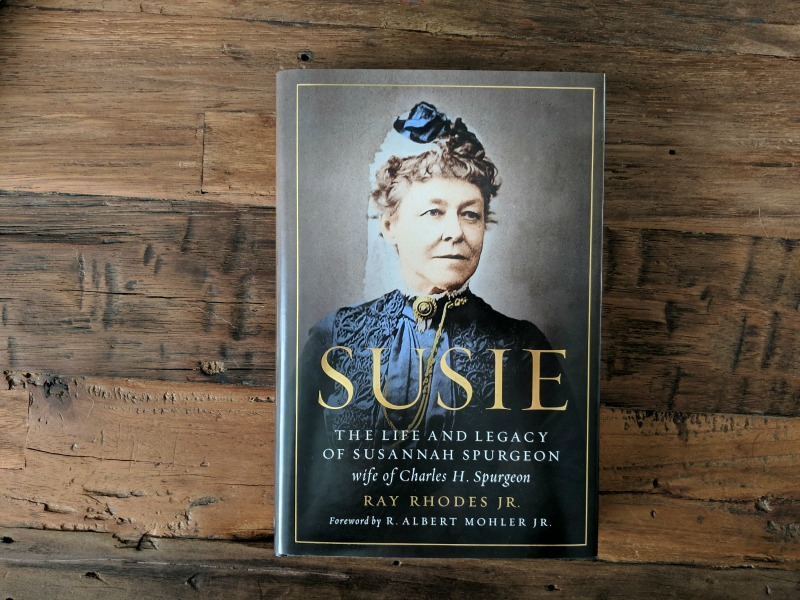 As a young Christian, I desired to read books from some of the "old guys" in the faith, but it was a bit intimidating. My first exposure to a "not so old guy" was Charles Spurgeon's, Morning and Evening Devotional. I picked up Alistair Begg's edited version, and it introduced me to a man who helped me to get a better understanding of what it meant to abide in Christ.
You can read the post below or listen in to the podcast where I share a bit more content:
Related Resources:
10 Lessons from the Life of Mary
Serving the Lord in Our Mundane Moments
Susie: The Life and Legacy of Susannah Spurgeon, wife of Charles H. Spurgeon by Ray Rhodes Jr.
Yours, Till Heaven: The Untold Love Story of Charles and Susie Spurgeon by Ray Rhodes Jr.
Most of us have been impacted by the writings of Charles Spurgeon, whether it's through books, his sermons, or even the many quotes we come across as we scroll through our social media feeds. Susannah Spurgeon is probably not as familiar to us except for the knowledge that we know she was married to Charles.
My first introduction to Susannah's writings was in a favored devotional of mine called Seasons of the Heart. Susannah's writings are appealing as Ray Rhodes Jr. explained so beautifully:
"for she brings her readers into her thoughts of her heart, as if she has poured a cup of tea for her guests, invited them to draw near to the fire, and engaged them in conversation. She respected her readers, treating them as friends."
Reading Susie: The Life and Legacy of Susannah Spurgeon, wife of Charles H. Spurgeon, has made me feel as if I just got to spend time with a dear friend and I didn't want our time to come to an end. It is a well written, complete biography filled with historical records, personal writings from the Spurgeon's and wonderful testimonies from family and friends.
I had the opportunity to meet Ray in person at the G3 Conference last month and was so grateful for this opportunity to get a copy of Susie to review for my readers and to get to do a giveaway too! (Please note the giveaway has ended.)
Ray is a great storyteller, and the book was a page-turner and hard to put down. I loved the photos. Who doesn't enjoy photos in a biography??
There were so many takeaways from the book, and I wanted to share some parts of Susie's life that impacted me. Anytime I read a Christian biography the hope is it would help me, by God's grace, to love and serve Him more. Susie was one of those books.
As I share these, please remember that we are not Charles and Susie and the Lord had a special purpose for their lives, but I do always believe there are things we can learn and glean from others in our walk with the Lord.
Gleanings from Susie's Life:
Susie was raised in a home where the scriptures were most likely read and in a time and culture where the Bible was held in high regard. She didn't come to faith until she was a young adult, but because of her early exposure to God's Word, she had a good knowledge of God's Word from her childhood.
She was an avid reader of solid theological books along with God's Word. Because of this, she grew spiritually. Susie committed herself to practice the spiritual disciplines. She read through the whole bible yearly and was an avid reader of theological books. Susie meditated on the scriptures and had a good working knowledge of the Word. She is an encouragement for us all to seek out good, solid theological resources. Don't settle for superficial material ladies. We don't necessarily need to be reading the Puritans, (though that is a good thing to be reading) we have some great writers today but pray and learn to develop biblical discernment.
Her marriage was a priority to her. Susie was a wonderful helper to her husband and had a submissive spirit. They had a very romantic marriage. They wrote love letters to one another throughout their lives. They wrote like a young couple in love. They never got away from the romance of their relationship – it was beautiful. I love how she assured him even in her love letters that she was praying for him.
"God had certainly made them for each other. It was a love match, but also a spiritual partnership, as every true Christian marriage should be."

-Ernest Bacon
There were many difficult trials and circumstances they dealt with that were ministry related over their years together and Susie remained stable and steadfast in her walk with the Lord through them. She had a trusting, strong faith in the Lord and was the right woman to stand by his side.
"Though we may not at the time, see His purpose in the afflictions which he sends us, it will be plainly revealed when the light of eternity falls upon the road along which we have journeyed."

-Susannah Spurgeon
She was committed to Charles and his ministry. She did not hinder him from his work in any way. She was well-loved and cherished by her husband. Her joy was promoting her husband's gospel-centered ministry.
Susie was engaged in service even when she was afflicted. Her eyes were off herself and on others. She didn't make excuses because of her affliction. She served God faithfully to the best of her ability.
There wasn't evidence she was a complainer. She was honest about her afflictions and even the difficulties she faced after Charles died. She never doubted God's faithfulness and His promises.
Her Legacy:
Susie accomplished much in her earthly life in addition to being the wife of the Prince of Preachers. She was an author, she started a book fund for pastors, planted a church, was a student of the Word, hiked the Swiss Alps, was the mother of twin boys, content in the shadow of her husband, served Christ faithfully, loved the gospel and provided a warm, loving home that was prayerful.
Susie's life reminded me that every day is a gift and all is grace. God is good and faithful always. Suffering is part of our earthly life, and the hope is we will respond with faith and trust in our God with hearts that are joy-filled and thankful. Her story encouraged me of the importance of being a supportive and encouraging wife to my husband. I desire to be an excellent helper to him and not hinder the work of the Lord in his life but help flourish it in any way I can.
The book was edifying and challenging. You will be blessed by it, and if you enjoy Charles Spurgeon, it helps give a better picture of who he was through the life of his wife. Charles would not be Charles without Susannah.
"She loved her husband. She loved Jesus. And she had served God faithfully."
What sweet, precious words we would all love to hear at the end of our days.
More Information:
You can find Susie: The Life and Legacy of Susannah Spurgeon, wife of Charles H. Spurgeon here.
For more information on the book check out Ray Rhodes Jr's ministry website here.
I was provided with a copy of the book through Moody Publishing for an honest review.
Resources shared in the podcast: