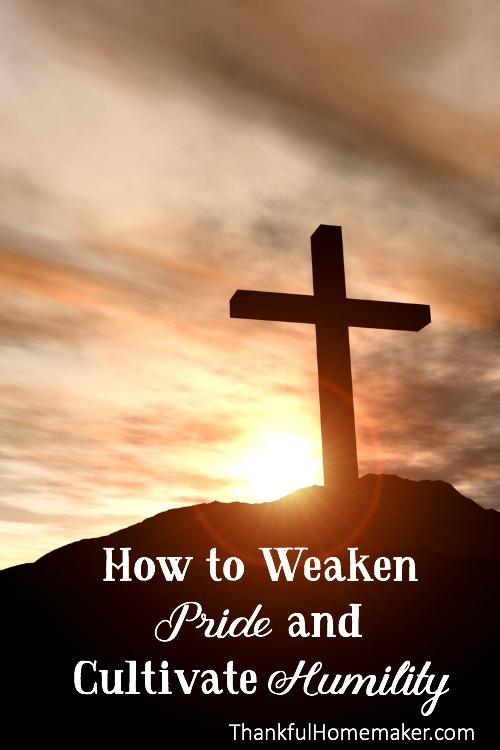 "Pride is when sinful human beings aspire to the status and position of God and refuse to acknowledge their dependence on Him."

~ C. J. Mahaney
Pride is such a battle for so many of us.  Pride only has one purpose: self glorification.  It robs God of His glory and seeks to bring ourselves glory.
"God opposes the proud but gives grace to the humble."

~ James 4:6
[clickToTweet tweet="Pride only has one purpose: self glorification. " quote="Pride only has one purpose: self glorification. "]
There is a little book that I highly recommend you get a hold of and read yearly called Humility: True Greatness by C. J. Mahaney.  I want to share a list of suggestions to ponder from the back of the book that is worth printing out and keeping handy in your Bible or prayer journal to review on occasion (or daily).
This list is just some suggestions from Mr. Mahaney of:
How to Weaken Pride and Cultivate Humility:
Always:
Reflect on the wonder of the cross of Christ.
As Each Day Begins:
Begin your day by acknowledging your dependence upon God and your need for God.
Begin your day expressing gratefulness to God.
Practice the spiritual disciplines: prayer, study of God's Word, worship.  Do this consistently each day and at the day's outset.
Seize your commute time to memorize and meditate on Scripture.
Cast your cares upon Him, for He cares about you.
As Each Day Ends: 
At the end of the day, transfer the glory to God.
Before going to sleep, receive this gift of sleep from God and acknowledge His purpose for sleep.
For Special Focus:
Study the attributes of God.
Study the doctrines of grace.
Study the doctrine of sin.
Play golf as much as possible.
Laugh often, and laugh often at yourself.
Throughout Your Days and Weeks:
Identify evidences of grace in others.
Encourage and serve others each and every day.
Invite and pursue correction.
Respond humbly to trials.
In Closing:
Mr. Mahaney tells of a conversation he had with Don Carson regarding a theologian who was know for his humility named Carl Henry.  When Dr. Carson asked Mr. Henry how he had remained humble for so many decades he responded:
"How can anyone be arrogant when he stands beside the cross?"
Let me leave you with one more quote that reminds us that the cross never flatters:
"Far from offering us flattery, the cross undermines our self-righteousness, and we can stand before it only with a bowed head and a broken spirit."  

~ John Stott
Related Resources:
10 Characteristics of Humility