Only A Few Things Are Important…..What's On Your To Do List?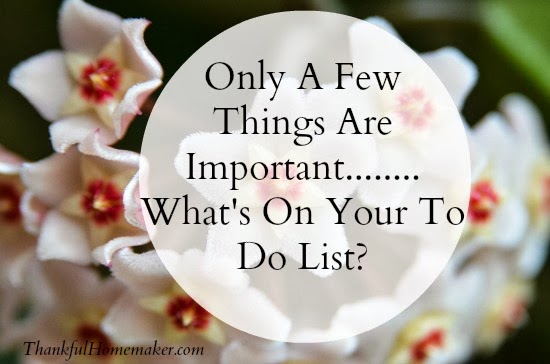 "She accepted those things, [knowing] they were no surprise to God," – Read the rest at Walking through fire.
This excerpt below has been quoted around the web and is one I appreciate being reminded of:

"I have been thinking of something that stifles thanksgiving. It is the spirit of greed—the greed of doing, being, having. When Satan came to tempt Jesus in the wilderness, his bait was intended to inspire the lust to do more than the Father meant for Him to do—to go farther, demonstrate more power, act more dramatically. So the enemy comes to us in these days of frantic doing. We are ceaselessly summoned to activities: social, political, educational, athletic, and yes—spiritual. Our 'self image' [deplorable word!] is dependent not on the quiet and hidden 'Do this for My sake,' but on the list the world hands us of what is 'important.' It is a long list, and it is both foolish and impossible. If we fall for it, we neglect the short list. Only a few things are really important, and for those we have the promise of divine help: sitting in silence with the Master in order to hear His word and obey it in the ordinary line of duty—for example, in being a good husband, wife, mother, son, daughter, or spiritual father or mother to those nearby who need protection and care—humble work which is never on the world's list because it leads to nothing impressive on one's resume. As Washington Gladden wrote in 1879, 'O Master, let me walk with Thee/In lowly paths of service free…'"
~Elisabeth Elliot


Do nothing from selfish ambition or conceit, but in humility count others more significant than yourselves. Let each of you look not only to his own interests, but also to the interests of others.Phil 2:3-4


Please note there are affiliate links in this post – see my full disclosure policy here.