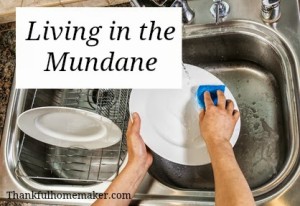 "There simply are not many grand moments of life, and we surely don't live life in those moments. No, we live in the utterly mundane. We exist in the bathrooms, bedrooms, living rooms, and hallways of life. This is where the character of our life is set. This is where we live the life of faith"
~Paul David Tripp – Age of Opportunity
"The challenge of ministry in our home is that we do not always feel very "spiritual" when we wash our dishes. It hardly feels significant to scrub our toilet. and we can feel that we are truly ministering when the Lord uses us to communicate a word of wisdom to someone, or He provides an opportunity to share the gospel with our neighbor. That seems like real ministry. And that is real ministry to be sure! But no more so than when we are wiping runny noses or cleaning the bathroom. That is because we have a very narrow view of true spirituality… The Lord wants to help us see the significance of ministry at home. He also wants to expand our vision for the multiple opportunities that we have for ministry in the home. Let's ask the LORD to help us gain a biblical perspective of our ministry at home."
~ Carolyn Mahaney – Feminine Appeal
Take a moment to ponder the above quotes and think about our lives. How many times do we give thanks to the Lord for the ministry He has given us at home. Are we thankful for the mundane everyday moments or are we are only thankful when we think we are doing "great" things for the Lord?
How do you respond differently to the mundane moments over the "great" moments. If you are ministering to a family in need are you kinder and more sympathetic than you would be to your own family?
Our lives to the eyes of the world may go mostly unnoticed. You will not get accolades from the world for staying up all night with a sick or nursing child. There is no special earthly award for providing your family with nutritious meals and clean clothes. Did anyone recently send you a card letting you know how thankful they were when you worked so patiently with your child on their math facts or in teaching them to tie their shoes? When you set aside your needs to meet the needs of your loved ones was that moment covered by Fox News?
Everyday we are called to lay down our lives by the One who laid down His life for us. He is where we draw our strength. He is where we find our purpose. He sees every sleepless night and every shoe we tie. Our purpose is not found in the accolades of man but in the Lord. If you have a family to serve, you have a ministry. You are making eternal differences daily as you tend to the needs of your family and daily learn to die to self through God's help and loving care. In each of those moments the Lord is molding and shaping you more and more into the image of His Son.
Don't look outside the walls of your home to find your purpose – look to the Lord Jesus Christ. May you gain your strength from Him to love and serve your family to His glory.
Be faithful to where the Lord has called you – do all things to His glory. Serve and love your family as unto the Lord.
Related Links for Encouragement:
A Biblical View of Motherhood – (please take the 15 minutes and watch the video)