Salted Caramel Hot Chocolate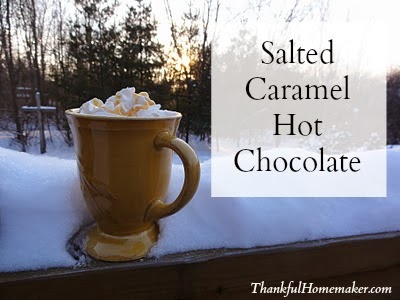 I have a confession to make – I love Starbucks – I love the beverages, the atmosphere, the friendly staff but what I don't like is the damage it can do to my budget. We love the Salted Caramel Hot Chocolate so as a family one night we thought – "we can make this at home for a fraction of the cost". I believe with Google you can figure out how to make anything – so we started searching and below is the recipe we came up. There is much joy in being your own at home barista!
Salted Caramel Hot Chocolate
2 Tablespoons Caramel Ice Cream topping of choice
8 oz milk
2 Tablespoons Hot Chocolate Mix
Whipped Cream
A little more caramel to dribble over your whipped cream
A pinch of sea salt
Directions:
Put two tablespoons of caramel in your mug of choice. Heat your 8 oz of milk (we cheat and use our microwave for two minutes) add your two tablespoons chocolate mix to your heated milk (see recipe below for chocolate mix) and mix well. Pour this over your caramel in your mug and mix well again. Top with whipped cream, a dribble of caramel and your pinch of sea salt (this makes it a little healthy). Serves one.
Homemade Hot Chocolate Mix
3 1/2 cups sugar
2 1/4 cups cocoa
Directions:
Mix well and store in an airtight container. Make sure you shake it or mix it well each time before using.
Use two tablespoons mix to every eight ounces of milk.
Enjoy!