Making "Cream of Soups" from Scratch – MSG Free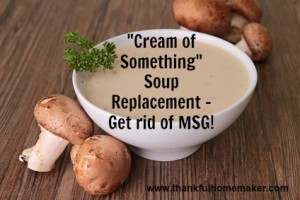 Learning to cook real foods made me realize how many casserole recipes I used called for "cream of something" soup so one of the first changes we needed to make was finding a replacement. We loved
tater tot casserole
but needed to eliminate the MSG. This is just a basic white sauce recipe with variations to help you get rid of your use of canned soups in your recipes.
Basic White Sauce Recipe:
3 T melted butter
3 T flour
1/4 tsp salt
1 C milk or stock
Melt butter on the stove and add flour until well combined. Stir in salt and milk (or stock) until thickened. It replaces one can in a recipe. You can change the amount of liquid to your liking if you need it thicker or thinner for your recipe.
Cream of Chicken: I use half milk and half chicken stock (from the freezer if I have it on hand or organic). There is always a baggie of cooked chicken in the freezer to grab a little from and add to it. (Making chicken broth in a slow cooker).
Cream of Mushroom: Add mushrooms to the butter to saute
Cream of Celery: Saute some chopped up celery in the butter
Tomato: Add tomato juice in place of the milk or stock.
Season all of the above variations to your liking.
Quick and easy way to get rid of the MSG.
Do you have a favorite "cream of something" replacement you use?