Favorite – Fast – Easy – Rice, Beans & Salsa Dinner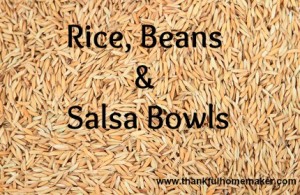 This dinner seems to fall on the menu plan almost every week. Sometimes planned, sometimes unplanned but it is a favorite because everyone can personalize it to their taste buds.
I always have beans in the freezer ready to go and my rice cooker is one of my favorite kitchen tools. It is not a necessity but it does make cooking rice as easy as pressing a button and walking away.
Rice, Beans and Salsa Bowls
Main Ingredients:
Cooked beans – (you can use canned, we usually grab some from the freezer and heat them up. Black beans are usually our pick here.)
Rice – (we are brown rice lovers here)
Salsa
Toppings:
Cheese
Sour Cream
Peppers – (my boys are hot pepper lovers)
Guacamole – (I cut it fresh in chunks on top)
Tortillas – (we just eat them on the side)
Tortilla Chips
Extra Salsa for chips
Favorite hot sauce to spice it up 🙂
We just layer rice, beans, and salsa in individual bowls and add whatever toppings of our choosing.
Enjoy!!
What would you add to this? Do you have a favorite emergency dinner for your family?