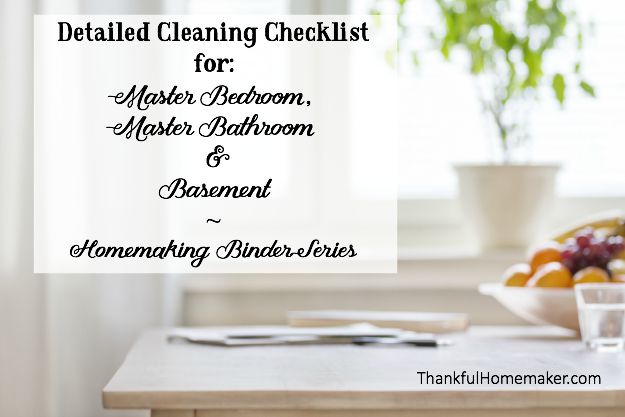 We are almost to the end of the detailed cleaning checklists.  There is one more Zone to cover and then I will move on to some other lists that are in my Homemaking Binder.
This is the fourth post in the series and you can find all the posts in this series here.  If you're new to the series I encourage you to read the Introductory Post when you get a moment.
In today's post I'm covering Zone 3 and it includes: The Master Bedroom, Master Bathroom & Basement.
I enjoy taking the time to clean my bedroom and bathroom.  It is a time I take to declutter, organize and determine if I can rearrange the furniture in the room.  I like to give my bedside table some new reading material if needed and make sure I stock up on supplies in the bathroom.
Our basement is finished and we like to watch movies downstairs, play pool and our treadmill is down there.  When our kids were little they spent a lot of time downstairs as our toy room is down there.  I still have some toys but my grand babies are small so we do most of the playing upstairs in our family room.  The toy storage closet will probably always have some toys but has accumulated some storage for other items.  I use it now as a gift closet, storage for my pro-life ministry materials and it holds brochures and catalogs for my Mary & Martha business.
You can download the PDF of this list to just print, put in a sheet protector and add to your binder, or you can copy, paste and edit the list below to customize it for your needs.  You can find all the details in the introductory post here.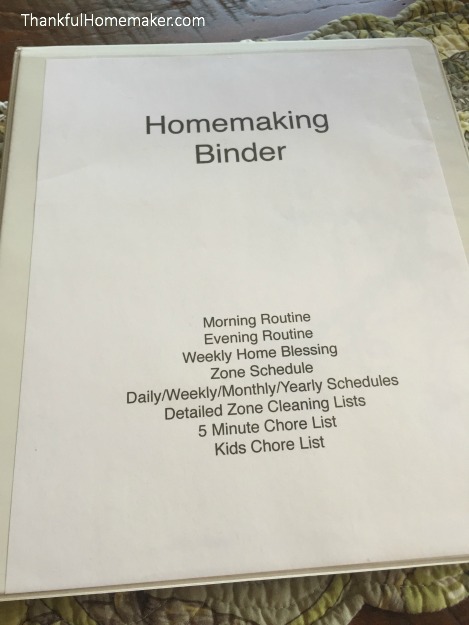 Detailed Cleaning List for Zone 4:
Master Bedroom:
Declutter
Dust furniture
Straighten items on dressers
Organize drawers (at least two)
Straighten & dust bookcases
Clean under bed
Dust baseboards
Dust light fixtures & ceiling fan
Clean inside windows & dust blinds
Vacuum curtains
Mirrors cleaned
Switchplates and doors cleaned
Straighten closet & vacuum
Wash any bedding as needed
Organize bedside tables
Vacuum under dressers if needed
Vacuum room
Master Bathroom:
Declutter
Toilet Cleaned
Countertops cleaned
Clean whirlpool deck & tub
Clean shower and tidy toiletries
Organize drawers & cupboards
Polish cabinets
Wipe mirrors
Clean window, blind, & vacuum curtain
Wipe baseboards
Dust all pictures
Refill soap dispensers as needed
Vacuum floor and wash rugs
Clean fan vent
Put out fresh towels
Mop floor
Basement:
Declutter & straighten
Dust all areas
Clean bathroom as needed
Vacuum & wash bathroom floor
Wipe switchplates
Clean inside windows & blinds
Vacuum furniture
Straighten toy closet, bookshelves, DVD's & video game areas
Clean out fridge and wipe shelves
Dust baseboards
Vacuum whole basement (storage areas too)
Vacuum steps
Mop wood floor
Follow Thankful Homemaker's board Homemaking 101 Series on Pinterest.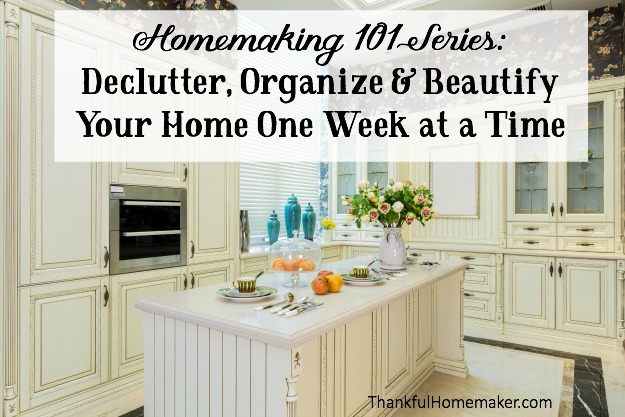 Related Links:
Detailed Cleaning Checklist Series
Declutter, Organize & Beautify Your Home