Homemaking 101 Series: Declutter and Organize Your Main Bathroom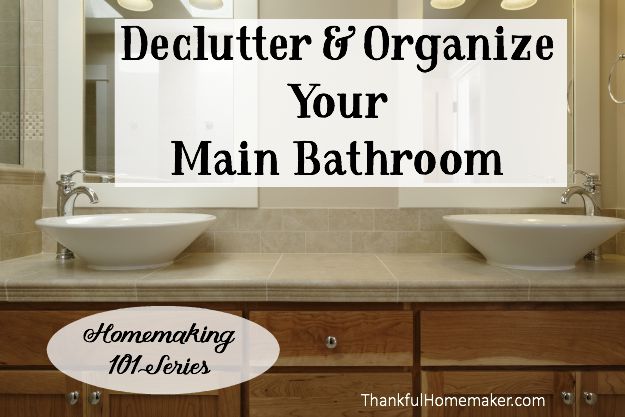 If you've been following along in the Declutter, Organize & Beautify Your Home Series you know we just finished in the kitchen. You can read all the posts in the series here.
Our next mission is the main bathroom of our homes. For me, I'm using my master bathroom as my main bathroom. We'll be doing the powder room or half bath or whatever you call it where you live in a couple of weeks but this one is dedicated to a full bath in your home. If you have more than one full bath do them both but not at the same time unless you're feeling really ambitious.
At the bottom of the post I have two videos on decluttering, organizing and beautifying your main bathroom that are from an older post series that isn't up on the blog anymore. They are a great fit for this post and may give you some ideas.
Declutter
This is our first step and it may take some of us longer than others and that is OKAY!! Once the decluttering is done we can get to the fun stuff!
Supplies you need:
– Timer
– Garbage Bag
– Giveaway Bag (you can donate unused beauty products to shelters, nursing homes or assisted living facilities – give them a call to see if they accept these items)
Let's Get Started:
– Take it a drawer or cupboard at a time.
– Set your timer for 15 minutes and spend that time decluttering – keep the garbage and giveaway bags in the room until you are finished.
– Be ruthless – if it is an unused item it is just taking up space so get rid of it! Toss any product you have not used for six months or more.
– If you keep medications in your bathroom go through these too.
– Review your towels and washcloths and the condition they are in – this is a good time to slim down the amount of towels you need and maybe donate some rough ones to your husbands car washing needs.
– What beauty & skin care items can you do without?
– Declutter your shower or tub of products you don't use.
– Larger items like extra hot roller sets or curling irons you don't need can be donated or kept aside if you are planning on having a garage sale.
– Declutter your counter tops and any flat areas first because this gives a feeling of order when you walk in the room.
– What items do you truly need on your counter-top? – stick with the basics (soap, tissues, toothbrushes etc.). Put the unneeded items in a drawer for now and they will be dealt with when it's time to organize.
– This is not the time to organize stay focused on removing clutter only.
– Take your weekends off – use your weekend time to visualize what you would like the finished room to look like.
– Do not move on to organizing until you have removed all clutter. You cannot organize clutter!
Organizing will take some time and processing. This is the hard step for me. Take a moment to review in your mind how you use your bathroom and where things should be placed for the most convenience and time saving in getting ready in the morning. The product links are just examples to give you ideas – please do not feel they are intended for you to purchase all those items.
Be creative in your organizing and share your creativity with the rest of us on Facebook or in the comments below.
Organizing
– Still only 15 minutes a day so keep your timer handy.
– You will need your vacuum, cleaning rags and whatever cleaning solution you prefer – see my Favorite Cleaning Products.
– Empty each drawer and cupboard, vacuum and wipe the inside of the drawer and the door front.
– Organize one drawer at a time – Example: Empty drawer, clean it inside and out, put back only like items and move the items that don't belong in that drawer to another place until you get to them later or another day.
– Remember 15 minutes a day and only weekdays. Use weekends to think about organizers you already have in your house to use before you purchase new ones. (baskets, plastic storage containers, ziploc bags or lazy susans). Usually if you have decluttered well you will not need to purchase organizers because we usually have more of them than we need already.
– Group like items together – cleaning products, hair care, make-up, toothbrushes and toothpaste, lotions, shampoo & conditioner, washcloths, towels, hand towels, extra paper products, etc.
– Once all drawers are cleaned out and grouped together it's time to do some organizing.
– Do you have enough hooks or towel bars to hang everyone's towels? If you have a large family you may have to have them keep their towels in their room on a hook. Hooks over doors are a great space saver in small bathrooms.
– Keep bath toys in a mesh bag and hang them so they can drain and dry in the shower or tub.
– Ziploc bags in various sizes are a great and cheap way to keep like items together.
– Save your bar soap in the shower by using a holder that drains.
– Keep hair care products in a small bin under the counter to pull out when you need it.
– Keep your make-up in a special make-up bag or a ziploc bag. I keep my face lotions in my make-up bag too.
– Use a shower caddy if you don't have shelves in your shower or tub area.
– Magnetic strips are great to put on the back of doors to hold tweezers, scissors or nail clippers.
– Put a shelf over your bathroom door if you need extra shelving space.
– Cleaning supplies are great in a plastic bin you can carry.
– If you don't have enough storage room for towels – roll them in sets and put them in a basket.
– Keep plenty of extra toilet paper in the bathroom and handy near the toilet – be creative in storing it – a basket or even an old umbrella stand would work.
– Lazy Susans are great for under the sink storage and for storing cleaning supplies.
– Screw in Hooks on the inside of a cupboard door work great to hang up blow dryers or straighteners.
– An adhesive caddy would be great on the back of a cupboard door to hold brushes or combs.
– A fog free mirror in the shower is great if your husband likes to shave in the shower.
– Keep reading material handy in the bathroom in a basket or wall mounted magazine holder.
– Rubbermaid drawer organizers are still an inexpensive favorite to keep items orderly and separated in drawers.
– Keep a squeegee in your shower to wipe down the walls when you are done showering.
– I keep a sponge and a small bottle of Dr. Bronner's Liquid Castile soap (your shampoo is a great wall cleaner too) in the shower to scrub the walls down while I'm in there. Use your squeegee on the walls or if you're towel is going into the wash use it to give the shower walls a good wipe down after cleaning.
– I love my hand held shower but if you don't have one keep a plastic cup in the shower to rinse the walls.
– When you are all finished, spend time giving the bathroom a good cleaning. In my post on Zone Cleaning I have a detailed list on cleaning my Master Bathroom.
This is the exciting part we have all been waiting for. We have one bathroom in our home that is decluttered and organized – now we get to add some finishing touches. These are just ideas – please pick one or two that will not hurt your budget or they may be items you already have in your home that are not being used.
Beautifying Our Bathroom
– Find a sweet clock to put in your bathroom – it will help family members to be on time.
– Candles are beautiful in a bathroom.
– Find pretty containers to put cotton balls and q-tips in for storage.
– Get rid of the vinyl shower curtain liner and add a fabric shower curtain liner – you can just toss it in your washer to clean.
– Invest in some nice bath rugs – Costco always has some good bargains.
– Check the condition of your towels and work it into your budget to replace some if necessary.
– Can you add a small I-pod dock or CD player in your bathroom for the beauty of music.
– Display mouthwash in a glass bottle.
– Add a pretty piece of art to your bathroom.
– We love to keep a dry erase marker in a drawer and write notes to each other on the mirror.
– Frame scripture and place it in your bathroom.
– Vinyl wall art is great in a bathroom.
– A small vase with fresh flowers is such a treat or a pretty plant adds life to the room.
– Add an attractive wastebasket.
– Bath salts, oils and nice soaps near the tub encourage you to relax and enjoy your time in the bath.
Remember you set the time schedule that works best for you. There is no pressure to get it done in one week. My hope is that you will enjoy seeing the results as you progress through the various tasks. Some of you may only need a week and others of us may need a whole month. If you have two full bathrooms in your house take the time to do both of them.
Enjoy the videos and try not too laugh too hard out loud at me ;). Remember they're from an old series on the blog that isn't up anymore but they are a perfect fit for this post! (If you're reading this in your email you'll have to click through to the blog here to view the videos)
https://www.youtube.com/watch?v=nFqRLQhWSoY
https://www.youtube.com/watch?v=p6RbdP_xjKI
Follow Thankful Homemaker's board Bathroom Ideas on Pinterest.
Follow Thankful Homemaker's board Homemaking 101 Series on Pinterest.
Related Links:
Detailed Cleaning Checklist for Master Bathroom
Declutter, Organize & Beautify Series