Memorizing Colossians – November Encouragement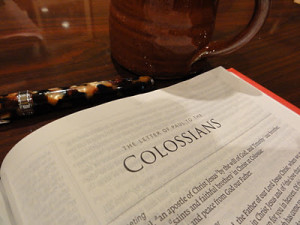 We are coming to a close in Colossians with only one month left. I don't have the book memorized and I still have a long way to go but I am thankful to have the posts here to look back on as I continue to move forward. I will leave the Colossians tab up all through next year so I pray if you have started you will continue on in working through memorizing this whole book.
My dear friend Bambi at
In the Nursery of the Nation
shares how their family has been spending an hour a day memorizing scripture.
I appreciated her reminding us how many days go by that we waste hours on meaningless activities.
Think how much we can accomplish if we spent even fifteen minutes a day hiding God's Word in our hearts. Visit her post,
The Most Important Part of Our Day
here
.
Paul Washer shared a story of a friend who had memorized a lot of scripture and Mr. Washer said to him, "I wish I had the gift of memory like you do." His friend replied, "I don't have the gift of memory, I just work real hard at it."
May we all work hard at taking the time to have God's Word on our hearts and the tip of our tongues so we will
"a
lways be prepared to give an answer
to everyone who asks you to give the reason for the hope
that you have".
Overview of November's Memorization Schedule
Colossians 4:7-8 / Review Colossians 4:1-6
Colossians 4:9-10 / Review Colossians 4:1-8
Colossians 4:11-12 / Review Colossians 4:1-10
Colossians 4:13-14 / Review Colossians 4:1-12
Colossians 4:15-16 / Review Colossians 4:1-14
This Book of the Law shall not depart from your mouth, but you shall meditate on it day and night, so that you may be careful to do according to all that is written in it. For then you will make your way prosperous, and then you will have good success.
~Joshua 1:8
Related Resources & Links:
View the entire series on Colossians
here
Just getting started visit
here