Memorizing Colossians Together in 2012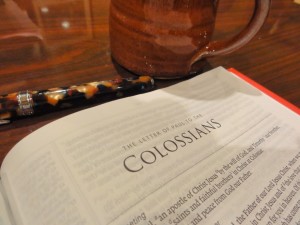 God's Word must be so strongly fixed in our minds that it becomes the dominant influence in our thoughts, our attitudes, and our actions. One of the most effective ways of influencing our minds is through memorizing Scripture. David said, "I have hidden Your Word in my heart that I might not sin against You" (Psalm 119:11)
~Jerry Bridges~
Please consider joining our women's group at church in memorizing together the book of Colossians. We are thankful to have resources on hand of those that have already paved the way in taking a year to memorize this book. I have tried to memorize this book on my own over the past year and failed – I am very thankful to have the accountability around me and encouragement to press on.
I would love any of my readers who would like to take the challenge to memorize Colossians with us – just two verses a week over the next year – please leave a comment if you will be joining us. We would like to be an encouragement to you in this very important spiritual discipline.
Ann Voskamp at A Holy Experience has put together two great posts on memorizing Colossians. The longer post is here and the summary post is here. Please utilize the wonderful resources she has put together to help you to "hide God's Word in your heart". What better way to grow in our walks as believers and more into His likeness than by spending our days meditating on His Word.
Links to Help in Memorizing Colossians
Scripture Typer
– Bible Verse Memory App for your Smartphone, Tablet or Computer
Overview of January's Memorization Schedule
January 1
Colossians 1:1-2
January 8
Colossians 1:3-4 / Review Colossians 1:1-2
January 15
Colossians 1:5-6 / Review Colossians 1:1-4
January 22
Colossians 1:7-8 / Review Colossians 1:1-6
January 29
Colossians 1:9-10 / Review Colossians 1:1-8
Reasons to Memorize God's Word
I have stored up your word in my heart, that I might not sin against you.
For the word of God is living and active, sharper than any two-edges sword, piercing to the division of soul and of spirit, joints and of marrow, and discerning the thoughts and intentions of the heart
For whatever was written in former days was written for our instruction, that through endurance and through the encouragement of the Scriptures we might have hope.
Lead me in the path of your commandments, for I delight in it.
~Psalm 119:35
Gather the riches of God's promises. Nobody can take away from you those texts from the Bible which you have learned by heart.
~Corrie ten Boom~