Memorizing Romans 8 Together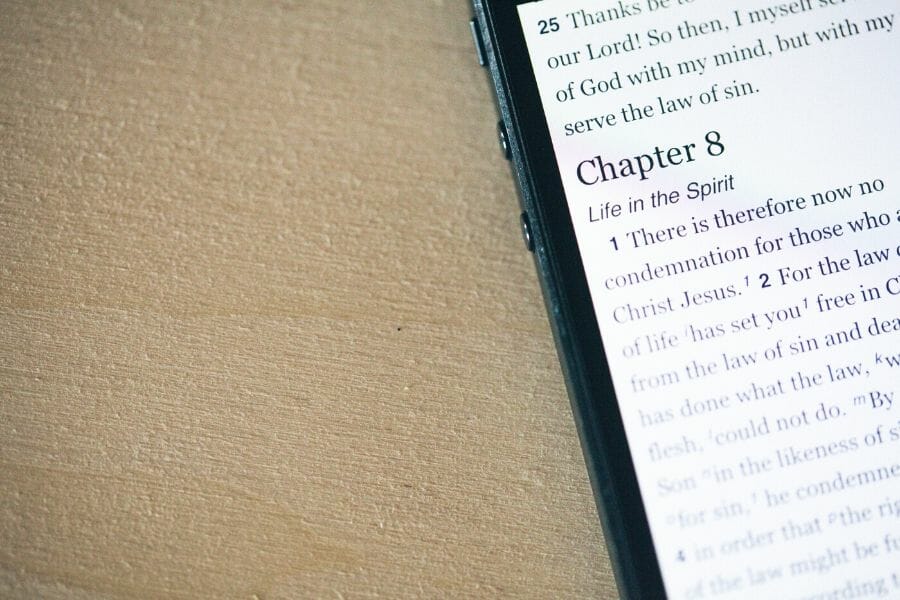 Has memorizing a longer passage on scripture been on your list of things to do? I'd love you to join us in memorizing Romans 8 as a group.
We've been working through a study on contentment in our Thankful Homemaker Facebook group and Romans chapter 8 keeps surfacing in each lesson. By the recommendation of one of our ladies, we decided as a group to memorize Romans 8 (totally optional for study members!).
Join us in memorizing Romans 8 together as a group.
We'd love you to join us and below I'm sharing some resources to help you along in this journey.
Many of us are utilizing the Bible Memory App (formerly known as Scripture Typer) to work through the verses and you can join our private group below. (This is optional, you can memorize the chapter on your own using your own favorite resources. Also please note, the Thankful Homemaker Facebook group is for women only, but the scripture memory group is open for your husbands or kids to join too!)
You can join our private group here in the Bible Memory App to memorize Romans 8 along as a group.
There isn't a deadline to finish the chapter but a verse a day is a good guideline to follow.
Paul Washer shared a story of a friend who had memorized a lot of scripture and Mr. Washer said to him, "I wish I had the gift of memory like you do." His friend replied, "I don't have the gift of memory, I just work real hard at it."
Ther are also I've also made some printable memory verse cards in the ESV version available in the free library here at the blog. You can print them out either on cardstock or regular paper so you can carry them along with you.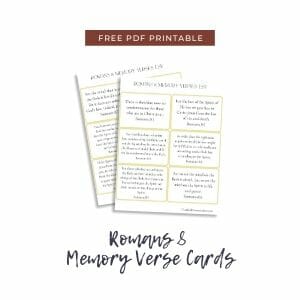 In addition to those items, I'd like to include some study aids to help you in this venture so you have a better understanding of the theology in this chapter. When we work through the meaning of the text it makes it easier to memorize and we grow more in our knowledge of God's Word at the same time. (You will grow in your knowledge of the text just by repeating and reading it over and over again and meditating on it throughout the day. The resources below are just optional if you want to dig a bit deeper which I highly encourage.)
I'm sharing below some resources on helping you in your study on Romans 8 or the whole book of Romans along with some scripture memory encouragement.
Resources on Romans:
Reformed Theological Seminary has a free study on Romans taught by Michael Kruger.
Martyn Lloyd Jones Sermons on Romans
Precept Austin has many study resources on Romans 8
Matthew Henry's Commentary on Romans 8
Romans 8 Study Notes from Enduring Word Bible Commentary
Read Thomas Watson's All Things Good (on Romans 8:28) along with Tim Challies
Scripture Memory Encouragement:
Podcast EP 54: Meditating on God's Word and Scripture Memory at Thankful Homemaker (lots of additional resources at this link)
Why Memorize Scripture? by John Piper
An Approach to an Extended Memorization of Scripture by Andrew Davis
A Call to Scripture Memory by Susan Heck
The Joy of Memorizing the Word at Revive Our Hearts
10 Reasons to Memorize Scripture:
Adapted from: Grace Church of DuPage, Scripture Memory Program, Informational Booklet
"I know of no other single practice in the Christian life more rewarding, practically speaking, than memorizing Scripture. . . . No other single exercise pays greater spiritual dividends! Your prayer life will be strengthened. Your witnessing will be sharper and much more effective. Your attitudes and outlook will begin to change. Your mind will become alert and observant. Your confidence and assurance will be enhanced. Your faith will be solidified"

~ Chuck Swindoll

Related Resources:
Bible Memory App Romans 8 Private Group
Thankful Homemaker Facebook Group
Ligonier Connect Contentment Study (it will end May 15th)
Free Library to Access PDF of Romans 8 printable verse cards
Podcast EP 54 on Scripture Memory at Thankful Homemaker
Memorizing Colossians Together