Reader Question: Surviving the Sometimes Challenging Teen Years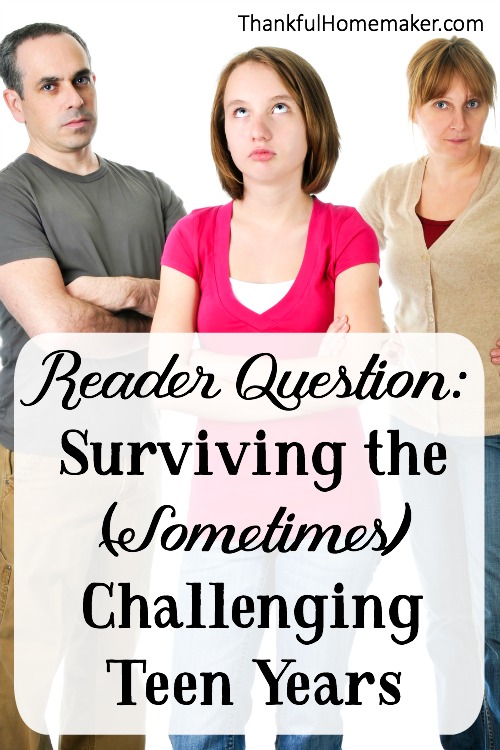 My readers I'm doing a bit of a different post today and sharing with you a question I have from a dear friend and blog reader here. I'd love to try to answer your questions so if you have anything you'd like to ask about topics that relate to being a Christian woman, wife, mother and homemaker please send them to me here.
Reader Question:
Needing some wisdom and advice from you my dear sweet mentor. I'm actually asking for myself and another friend. We're both going through this pre-teen stage with out 12 year olds, hers a girl and mine a boy. How do you survive?! We're dealing with smart mouths and nasty attitudes and at a total lose as to how to lovingly navigate through this.
My Response:
Define survive. Sorry couldn't resist. I always remind my Amber (my daughter who has three children 5 and under) that these are the best years with those babies because she controls where they go, what they see, who they talk too etc. I know the little years are physical but these teen years are hard dear friend. I don't have an easy solution as it is just continuing to respond to them in a Christlike way.
Keeping that communication open is such a big one. Your hope is your kids will always know they can come to you about anything and that your love for them is unconditional. Your example to them is one they are watching as these are the years where they are trying to figure out how they fit in, who they are, even if they made of profession of faith as a child always remember they may not be truly converted. Children love to please their parents and so many who grow up in Christian homes just assimilate into their environment without being truly converted. They may be questioning Christianity and don't let this scare you but let them share any doubts or questions they have openly. It is always better to know what they are thinking even if it may be hard to hear so you at least know where they are coming from.
You obviously have to correct bad attitudes but doing it in a loving way that brings it back to God's Word and points them to the Gospel is so good. It is never right to respond to sin with sin. Share with them your struggles with sin. We have bad attitudes and icky stuff going on in our own hearts but we don't have to let that rule because of Jesus ruling in our hearts as believers.
One other thought is the reminder that you can't save your children. Don't get caught up in a list of rules that if you do this this will happen. Our God is sovereign and in control of all things and we are just called to be faithful to what He has called us to do. We can't save anyone but we can just continually hope to point them to Christ. We don't know the testimony He is writing in their lives.
If I could encourage one thing it is to work hard on keeping them communicating openly with you.
I'm just linking a couple articles but don't feel obligated to read them. Hoping this was some help. It is a hard and fun season at the same time with teens and young adults. My best advice always is to pray continually.
Love you and praying for both your families xoxo
What are some ways you respond and deal with correction to your teens and young adults in your home in a Christlike way? Please share with us in the comments section on this post or on Facebook.
Please share your reader questions here. I would love to hear from you.
Related Resources:
Parenting: 14 Gospel Principles That Can Radically Change Your Family by Paul Tripp (this is one I recommend every parent read no matter the ages of your children – even adult children) Please see my Resource Page for more recommendations.
Biblically Communicating with Your Children
Building Better Communication with Your Teen