Thoughts to Ponder as You Celebrate Christmas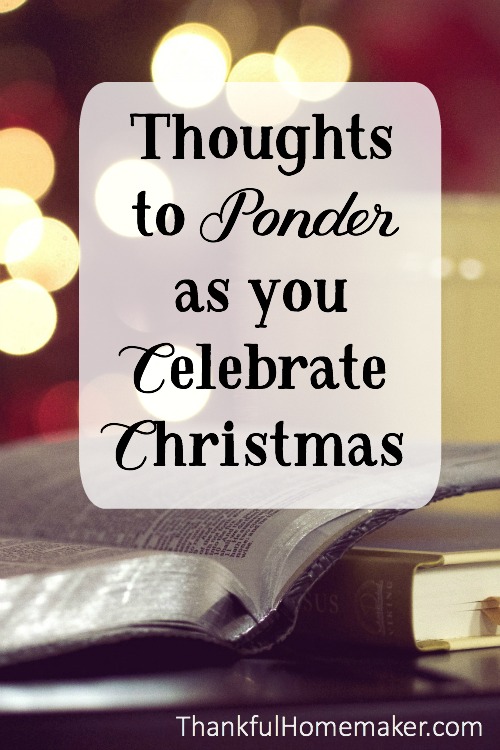 As I'm writing this post I am in the midst of the busyness this season seems to bring about. Baking, cooking, and wrapping. I continue to pray to the Lord to remind me to have the heart of Mary and not get caught up in the attitude of Martha in all that needs to be done.
I am praying I will ponder in my heart the wonder of Christmas as Mary did (Luke 2:19). My hope is to have a calm spirit and attitude in the midst of all the little things that need to be taken care of and to be able to let go and not worry about those that didn't.
I am praying I will ponder in my heart the wonder of Christmas as Mary did (Luke 2:19).
There are many things that did get taken care of as planned but also many that didn't. I didn't get my neighbor gifts out. I wanted to bake some cookies and take them to our local police and fire departments and that hasn't happened yet. The reality is I can still do those things after Christmas and still share the Gospel message because the Good News of Jesus Christ isn't just a seasonal message but it is the best news I have to share with anyone every day of the year.
So this Christmas you will find us enjoying quiet moments together as a family. We spend Christmas Eve with my daughter and her family, my father-in-law and we usually have an extra guest or two. Even though everyone lives close our family still spends the night so we can wake up together and enjoy Christmas morning breakfast together as a family. We always delight in all the cooking and planning for some fun traditional meals we all look forward to this time of year. We do gifts pretty minimally now as there isn't really anything we truly need.
My favorite gift to my husband and now my son this year is to give the gift of time for every month of the year in 2015 (see Neat Gift Idea for Your Husband) I plan various activities from coffee dates, dinner at home, game nights etc. to be intentional in the time we spend together. I did shorter versions for my father-in-law this year too.
Again, the end of the year always has me being reminded of how thankful am I to the Lord for His abundant goodness to me – a sinner – who He has saved by His grace. As my husband reminds me, if Jesus isn't enough nothing will ever be.
So this Christmas season ponder the truth of Jesus – Immanuel – God with Us – an amazing thought! The God and Creator of the whole universe took on human flesh to live and walk among us as one of us so He could take our sins upon Himself and die for us – an undeserving, wretched people. We have much to ponder!
Let me leave you with some thoughts to ponder as you celebrate the season with loved ones:
– Enjoy every moment and take the time to give family and friends your undivided attention. When your husband comes up to hug you and you're in the middle of a mess in the kitchen – stop and enjoy that moment. Get down on the floor and look those little ones in the eyes when you're talking to them. Be generous with hugs and love and attention.
– Be thankful in and through all things. Memorize
Philippians
2:14 – no complaining.
– Get some quiet time away from the busyness to pray and be alone with the Lord. Read and re-read the Christmas passages in scripture alone in your quiet moments and together with family. (Matthew 1, Luke 2, Isaiah 7 & 9, Micah 5)
–
Be generous with finances and time.
Is there a family in need? Missionaries? Your church? Maybe this is the year you sponsor a child with
Compassion
– there are many children and families in need of Christians letting them know they care and to share the Good News of Jesus with them. (see
14 Simple Outreach Ideas with an Eternal Focus
).
– Take a moment to read How to Preach the Gospel to Yourself today.
In Closing:
I am grateful for so much this past year. Too much to list but I am thankful for the encouragement from you, my readers and friends. I have grown to know so many of you over these several years of blogging. I do wish I could hug every one of you and meet you personally and the joyous thought is if you are in Christ – we will get to meet one day in heaven.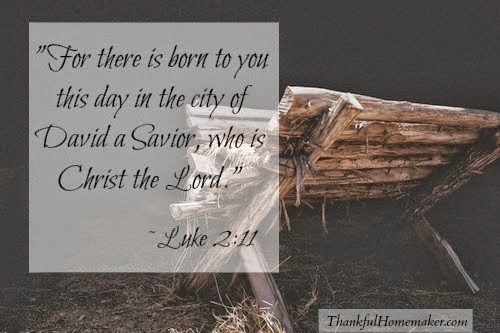 1 In the beginning was the Word, and the Word was with God, and the Word was God. 2 He was in the beginning with God. 3 All things were made through him, and without him was not anything made that was made. 4 In him was life, and the life was the light of men. 5 The light shines in the darkness, and the darkness has not overcome it.
9 The true light, which gives light to everyone, was coming into the world.
~ John 1:1-5, 9
Related Links:
SaveSave
SaveSave