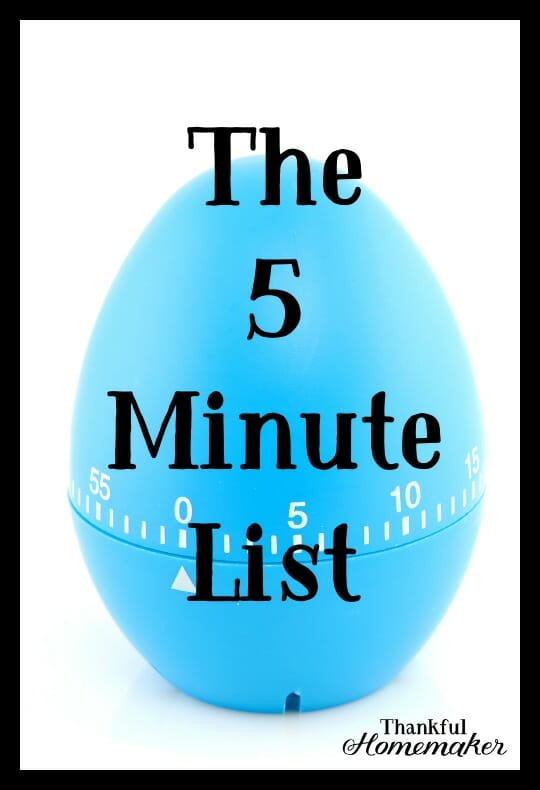 My 5-minute list is a go-to in those moments that you find yourself waiting and not sure what to do with those few extra minutes. Listen, I sometimes just do nothing but when I find myself in the mode to be productive, this is a handy list I turn to.
Maybe I'm waiting on a load of laundry, on hold on the phone, just put some water on to boil or I have those few extra minutes before I leave the house. Whatever it may be that finds me with a few extra minutes, this is my go-to list. It's just taped inside one of my frequently used kitchen cupboards.
So here's my list below and I've given a link for a PDF printout at the bottom too.
Read a chapter in the Bible
Pray
Read a Psalm
Chat with your child
Hug a family member
Encourage a family member
Unload dishwasher
Wipe off kitchen counters
Sit outside on the front bench
Take a walk around the yard
Cut some fresh flowers for the house
Vacuum kitchen floor
Organize a pantry shelf
Clean off one refrigerator shelf
Make a cup of tea
Start a load of laundry
Sweep front porch
Clean bathroom countertop and mirror
Collect and recycle newspapers and magazines
Get mail and sort it
Fluff sofa and chair cushions
Vacuum one room
Wipe off telephone receiver (or cell phone)
Pay a bill
Straighten one room
Make a bed
Clean a toilet
Change pet water
Brush dogs
Organize entryway
Return a phone call
Respond to an email
Write a card or note
Clean out a drawer
Feather dust a room
Make an appointment
Straighten up the desktop
Fold a load of clothes
Iron several items
Wipe front door glass
Clean the garbage out of the car
Do ten push-ups
Jog in place
Clean out my purse
Take my vitamins
What would you add to this list?