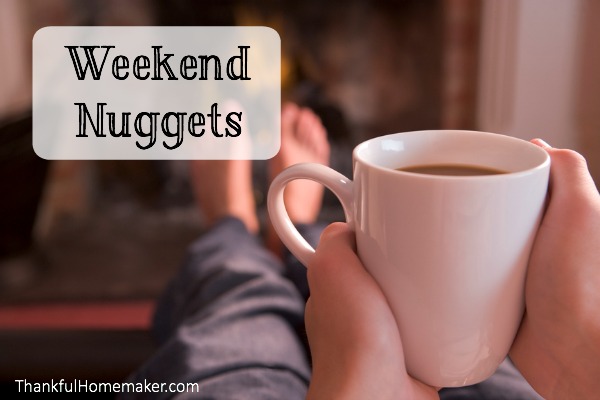 Blog Posts I Loved This Week:
Do You Trust Disney With Your Kids? @Desiring God
Four Characteristics of a False Convert @The Cripplegate
The Unwelcome Gift of Waiting @Desiring God
Why God's Sexual Ethic is Good for the World @The Gospel Coalition
Love Being Right When They're Wrong? @True Woman Blog
What's on My Nightstand?
The Pursuit of God in the Company of Friends by Richard C. Lamb Jr. (this is the next read in my Master Mind Course at Rick Thomas)
Be Hopeful (1 Peter) Commentary by Warren Weirsbe
What I'm Listening To:
Michael Hyatt Podcasts – I'm doing a bit of blog reworking and these are such an encouragement and help. My hope is to get a podcast up and started soon (don't hold your breath – I'm a bit slow on new technology) but I hope it will be another medium to reach and encourage women in their roles as Christian women, wives, mothers and homemakers. If you're looking for a specific recommendation from Michael Hyatt's podcasts, I really enjoyed this particular one called Happy People are More Magnetic – just a good listen.
Sovereign Grace Church of Louisville – I've been listening to their 1 Peter Series as I work through the text.
Top Posts at the Blog This Week:
10 Characteristics of Humility
Best 3 Ingredient Chocolate Milkshake (not sure how this one got on the list)
What I'm Loving This Week:
I splurged and bought an Instant Pot – I love it! (Although I've only made rice pudding so far). I'm hoping to get more comfortable with it and make meals it in as part of my regular meal planning each week. I just started a Pinterest Board if you'd like to take a peek.
The quote below is from the post that went up this week called, The History of Feminism. It's a short read on the history of the modern day feminist day movement. Take a read here when you get a moment. Thanks for stopping by this week dear friends.
"God created us male and female, and we are so uniquely different from one another. We are created equal, and we have different roles."