Hope for the Exhausted Mom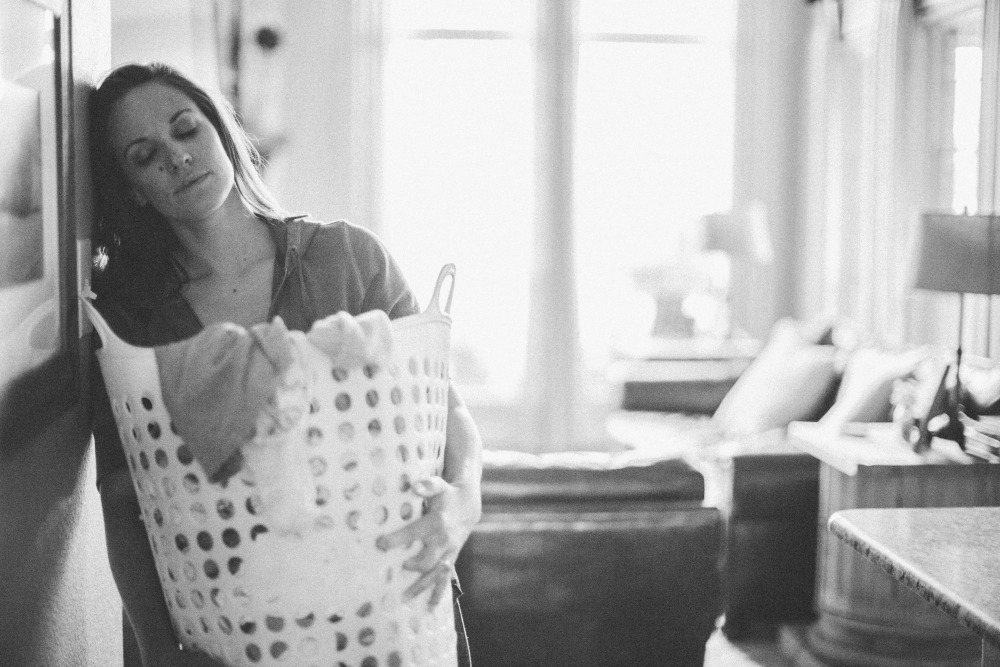 Are you a tired mom out there who feels like everything you work so hard to get done seems to get almost immediately undone? Communicating clearly and pointing our children to Christ in our conversations with them is hard. Nurturing the hearts of our children is hard work. Day in and day out, the workday of a mom can be physically and emotionally exhausting.
Day in and day out the workday of a mom can be physically and emotionally exhausting.
Helps:
I can assure you there is One who knows what it is like to be exhausted.
For we do not have a high priest who is unable to sympathize with our weaknesses, but one who in every respect has been tempted as we are, yet without sin.

~ Hebrews 4:15
Luke 8:4 tells us that people from town after town came to see Jesus. I don't know about you, but I've never had a whole town to deal with, but a house of littles can sometimes seem like you have a whole town to minister to.
I love the picture of Jesus sleeping through the storm (Matthew 8:23-24). There are days you probably are so exhausted that you could easily picture yourself falling asleep on that wave-tossed boat as Jesus did. Jesus had busy days of ministry, and He fully understands what your days are like, Mama.
Learn from our Lord, and let me suggest a few ways for you to practically get some rest on those days that are totally exhausting:
Take a nap – lay down with your littles and forget all the chores that need to be taken care of but take a nap when your kiddos take a nap. Go to bed when you put your children to bed. Don't stay up late trying to take care of every chore. You will feel more energized in the morning to tackle those tasks that didn't get done the night before.
Get some time alone to pray (Luke 5:16) and ask the Lord for help. If you can't get alone, pray while you are attending to your tasks. You can pray while washing dishes, changing diapers, or bathing littles.
Ask for help. This can be a hard one, but when you know you need help from your husband, mother, or friend, don't hesitate to ask.
When You Find You're Just Too Busy:
Life doesn't stop just because we're tired. When your schedule is a bit overwhelming day after day, I want you to take time to sit and pray about what can be eliminated from your days. (I understand there are seasons where we are just busy, but I'm talking about your ordinary day-to-day life)
One sure sign you are overbooked? It is easier to sin against your kids and husband. When we find ourselves tired to the point of exhaustion, we are weak, and it is much easier to fall into the temptation to sin against others. This is not an excuse to sin, and I'm not excusing our sin in any way; I'm just stating a fact that I know is true in my own life, sadly. I need to look at this moment as sanctifying. The Lord is reminding me that I need His help.
Something (or things) in our schedule probably needs to go. We can pray and ask the Lord to help us to see what in our day is pleasing to Him and what isn't. We can seek the guidance of our husband to see what activities we value as a family and what are some we can eliminate. We can examine our hearts to determine the motivation behind the various activities we're involved in. I am sure there are things that we all do that are not necessary.
In summary – pray, seek the Lord's help, seek your husband's guidance and search your own heart for the motivation behind the various activities you and your family are involved in.
So whether we are at home or away, we make it our aim to please him.

~ 2 Corinthians 5:9
When Life is Just Hard:
These next words are for all of us as church members too. We are called to serve one another well. All of us need to be involved in others' lives in our church families and take the time to see the needs we can meet.
We are called to encourage one another. Maybe that mom just needs to hear some encouraging words spoken into her life. Love on her and let her know she is doing a good job and see how you can help her. Can you bring her a meal, help watch the children so she can get a moment alone, or pray with her?
If you are overwhelmed, dear mother—maybe you just had a new baby or an illness—you need to ask for help. That is why your church family is there.
And we urge you, brothers, admonish the idle, encourage the fainthearted, help the weak, be patient with them all.

~ 1 Thessalonians 5:14
God's Purposes in Our Difficulties:
"The gospel is the one great permanent circumstance in which I live and move; and every hardship in my life is allowed by God only because it serves His gospel purposes in me."

~ Gloria Furman, Glimpses of Grace: Treasuring the Gospel in Your Home
Our children are a gift from the Lord, and the Lord uses them to sanctify us and grow us more into the likeness of Christ. God is with us always – He is our ultimate Helper. There is nothing that is outside of His sovereign will for our lives.
We can be mindful to give thanks in and through all things (1 Thessalonians 5:18), we can rejoice always (1 Thessalonians 5:16), we can pray without ceasing (1 Thessalonians 5:17), and we can know that God is working all things together for good to those who love Him (Romans 8:28).
Related Resources:
Glimpses of Grace by Gloria Furman
Encouragement on Difficult Days
SaveSave