Podcast EP 73: An All-Knowing God: A Walk Through Psalm 139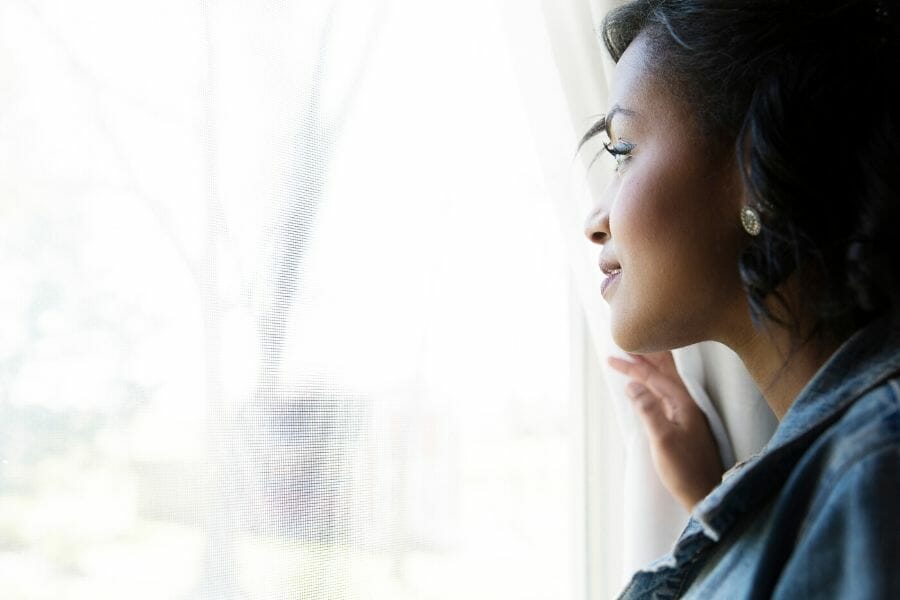 In the current times and situations we find ourselves in, Psalm 139 has been a comfort to read and remind me of the attributes of the God we serve. Our God is all-knowing, all-powerful, and always present with us. These truths are a comfort in seasons of trials and difficulties.

We've been working through Ligonier's group study on contentment with some of the ladies in our Thankful Homemaker Facebook group. We work through the course materially individually online each week and meet in the Facebook group on Friday mornings through Livestream to discuss it together.

Melissa Kruger is leading this online study, and last week's lesson's topic was the Source of our Contentment. Who is the source of our contentment? God is. But why is God the source of our contentment?
You can read the post below (10 minutes) or listen in to the podcast (30 minutes) where I share a bit more information.
Related Articles:

Psalm 139 helps us to grasp this a bit better because as we work through it we will see how knowing who God is—His character and His attributes—helps us to trust in Him fully.

We are fully known by the Lord. Psalm 139 tells us we are intimately known by our God. Every detail and in every single way.
We are fully known by the Lord. Psalm 139 tells us we are intimately known by our God. Every detail and in every single way. Click to Tweet

Our God knows us. He knows precisely in every circumstance of our lives where things need to go.

He designed the circumstances of our lives that are needed to make us more like His Son. He arranges all our lives differently because He knows each of us.

The circumstances He allows or puts into place in our lives are unique to us and our personalities, demeanors, strengths, and weaknesses. He puts everything in to place as it should be. He sees the end from the beginning, and He does not make mistakes.

So as we begin to dive into Psalm 139, I want to share a quote to reorient our minds to think of God rightly from J.I. Packer:
"Our thoughts of God are not great enough. We fail to reckon with the reality of His limitless wisdom and power because we ourselves are limited and weak. We imagine that at some points God is too and may find it hard to believe that He is not. We think of God as too much like what we are."
God is All-Knowing:
1 O Lord, you have searched me and known me!
2 You know when I sit down and when I rise up;
you discern my thoughts from afar.
3 You search out my path and my lying down
and are acquainted with all my ways.
4 Even before a word is on my tongue,
behold, O Lord, you know it altogether.
5 You hem me in, behind and before,
and lay your hand upon me.
6 Such knowledge is too wonderful for me;
it is high; I cannot attain it.
~ Psalm 139:1-6

God's omniscience or all-knowing, is laid out in these verses. God knows everything. He doesn't miss a thing. His knowledge here of David, who is the author of the Psalm and His knowledge of us as His creation is personal, it's intimate.

God knows our thoughts and words before we even speak. He knows us better than we know ourselves. If we are in Christ, we are in a personal relationship with the Lord. We are His children, and He is our Father. His love for us is tender and caring.

This is such a personal Psalm. The Lord knows our sitting down and our rising up. He knows our passive lives and our active lives. This brings my thoughts to the ordinariness of our every day lives as wives and mothers. He knows every little detail and cares about every one of them. From washing dishes to making beds to the care of our families. There is a purpose in each one. Nothing is by random chance.
Oh, the depth of the riches and wisdom and knowledge of God! How unsearchable are his judgments and how inscrutable his ways!
-Romans 11:33

for " In him we live and move and have our being';
Acts 17:28a

Nothing is hidden from God. Our thoughts, our words before we speak them—there is not one aspect of our lives hidden from our all-knowing God. David said, "you are acquainted with all my ways."
"Divine knowledge is perfect since not a single word is unknown, nay, not even an unspoken word, and each one is "altogether" or wholly known.
-C.H. Spurgeon
Ponder that quote above from Charles Spurgeon. It should affect how we talk to one another. God hears every word.

God knows everything about us. He knows all our flaws and sins and weaknesses, and He still loves us with an everlasting love. This is good news friends. We know what a gift it is to have a spouse or friend who sees our flaws and weaknesses, and they still love us as we. But we don't know anyone except God, who knows every single one of our thoughts even before we think them, and yet still loves us. The other amazing reality is He doesn't just leave us there but continues to redeem each of those thoughts so more and more as we grow in our grace and knowledge of Him, our thoughts and words and actions will continue to become more and more Christlike.

My favorite saying is God is continually removing the impurities or the dross from our lives, so more and more of Jesus's work in our lives is evident to us and to others.
"There is only one Person who knows us as we are, without false pretense and masks. And the shocking truth is that He loves us anyway."

– Elyse Fitzpatrick
God is Ever-Present
7 Where shall I go from your Spirit?
Or where shall I flee from your presence?
8 If I ascend to heaven, you are there!
If I make my bed in Sheol, you are there!
9 If I take the wings of the morning
and dwell in the uttermost parts of the sea,
10 even there your hand shall lead me,
and your right hand shall hold me.
~ Psalm 139:7-10

So not only is our God all-knowing—he is ever-present with us. It's the term we hear called Omnipresent.

David says in v. 7, "where can I flee from your presence?" What is the answer – nowhere! The prophet Jonah came to my mind when he tried to run away from God. It's not possible. God is fully present everywhere in the universe.

Jude 24 tells us: "Now to Him who is able to keep you from stumbling and to present you blameless before the presence of his glory with great joy."

Not only does God keep us as his people, but as it says in Jude, He does it with great joy.

For the Lord takes pleasure in his people; he adorns the humble with salvation. ~ Psalm 149:4

Psalm 149:4 reminds me of a line in a favorite hymn He Will Hold Me Fast:

"Those he saves are his delight, Christ will hold me fast."

Matt Merker said of this hymn,
"It reinvigorates us to know that God is in control, and he will preserve us to the end."


As God's own—those who have repented of our sins and put our faith in Jesus Christ for our salvation—he will be faithful to keep us to the end. He is holding us fast; 1 Thessalonians 5:24 tells us – "he who calls you is faithful; he will surely do it."

God often says in His Word, "Do not fear for I am with you." The promise of God's presence sources our contentment because we can never be outside of His paternal care.

fear not, for I am with you; be not dismayed, for I am your God; I will strengthen you, I will help you, I will uphold you with my righteous hand.
~Isaiah 41:10

God called Israel as it stated in Isaish 41:9—He is their God, and He is with them. He has chosen them. If we are in Christ, God has chosen us and called us to be His people, and He is our God. God cares out of His good pleasure and love for us.
"It would be wrong to view God's omnipresence with fear and anxiety. God doesn't abuse His presence in our lives, seeking to manipulate and strike us down at the first sign of a mistake. God's omnipresence should instead be seen as a comfort to His people, because like a loving Father, He promises to be with us always. We should feel freedom and a proper boldness in coming to our heavenly Father."
-Melissa Kruger
God is Sovereign and Good
As we've worked through Psalm 139 1-10, I want to move to a natural progression that comes about by it. We know God is all-knowing and ever-present, but the two characteristics of God that give me peace among knowing these characteristics is first, God is fully sovereign or in control of all things (and when I say all here I mean all). Second, God is perfectly righteous or good.
When life is hard and seems to be uncertain, or things aren't going the way I think they should go, I bring myself back to these two truths that God is good, and He is Sovereign. Click to Tweet

When life is hard and seems to be uncertain, or things aren't going the way I think they should go, I bring myself back to these two truths that God is good, and He is Sovereign.
"If there is one single molecule in this universe running around loose, totally free of God's sovereignty, then we have no guarantee that a single promise of God will ever be fulfilled."

~ R.C. Sproul, Chosen by God: Know God's Perfect Plan for His Glory and His Children
Luke 18:19 – No one is good except God alone
Romans 3:10 – None is righteous no not one.

When we say God is good, we are saying He will always do what is right, true, and good. There is no evil in Him.

His goodness should lead us to have thankful hearts. And the ultimate good is seen in His plan to redeem us from sin. The gospel is called "good news" It's the kindness or also translated goodness of God that leads us to repentance. God is the only one who entirely good.

God's sovereignty is a natural consequence of His omniscience (God knows everything), omnipresence (God is everywhere present), and omnipotence (God is all-powerful). His sovereignty is the most comforting attribute to me. Nothing is outside the control of our Heavenly Father's loving hand. Not even wicked things done against us or even something like the Coronavirus.

We can know that God has control over everything that happens. No matter how chaotic the situation or times we find ourselves in, we know we don't need to fear because God is in control and in charge and on His throne.

Friend, in the season we're in (all the various seasons of life come with their own challenges), I want to encourage you to work through these attributes of God on your own. Study God's sovereignty and His goodness. Work through what it means that God is omniscient, omnipresent, and omnipotent. Our most significant help in being women who are content in all the situations of our lives begins with knowing Who God is. God is the Source of our contentment. I have a post here with some resources listed to get you started.
Our Response:
I want to close today with words from the Ligonier course on contentment. This is from lesson three titled the Source of Contentment:

We, as women of God, have been rescued. We can live every day in light of that rescue. He has saved us from the worse fate because death is actually not the worse fate imaginable; an eternity without Christ is the worst fate imaginable. He has saved us for all eternity. So can we bear in this life what might cause us discomfort here knowing that we have a whole eternity with Him, where there will be no weeping. There will be no more tears. All will be made right in that world. So we are sourced with contentment here because our God has rescued us, and every day we can live in that reality, and we can say, "It is well with my soul." No matter what you take from me, no matter what happens to me in my world, my soul is completely and 100% secure. Our God has done that for us.

He created us
Redeemed us
He Loves us
We can trust Him and walk in that trust daily.
So no matter what happens to us this day, we can say, Thank you for saving my soul.
Jesus is enough always.
Resources Mentioned in the Podcast Episode:
Covenant Eyes – Screen Accountability
ESV Systematic Theology Study Bible
Chosen by God by R.C. Sproul
Thankful Homemaker Facebook Group
Ligonier Group Study on Contentment
Trusting God by Jerry Bridges