Simple Iced Vanilla Latte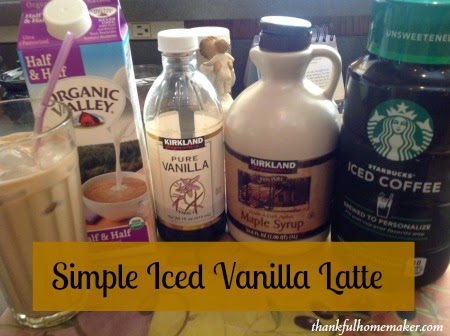 We have had quite a bit of fun trying to make our own barista style coffee drinks at home and this Iced Vanilla Latte has become a favorite for anytime of the year.
I did buy Starbucks Iced Coffee this time but usually make a batch of iced coffee to have on hand with the easy recipe below.
With only four ingredients and all real food items – it's almost a healthy drink – or maybe a healthy treat.
Here's the simple recipe and you can change your sweetener to sugar, stevia or honey too.
Iced Vanilla Latte
3/4 cup iced coffee*
1/4 cup half and half creamer (heavy whipping cream is yummy too)
1/2 t vanilla
1 T maple syrup
Pour over a glass filled with ice and enjoy!
*I have also cheated when I don't have iced coffee on hand but use a Starbucks instant coffee packet (or any instant coffee brand) dissolved in a bit of hot water and then fill the rest up with cold water. It works well in a pinch.
Easy Iced Coffee Recipe
This is the cold brew method and you can double it but it makes two cups of iced coffee.
1/4 cup ground coffee
1 cup cold water
Place in a container and let it sit overnight on the counter
In the morning add one more cup of cold water and I use our french press to strain out the grounds. Store the cold brewed coffee in the fridge for up to two weeks.
I did recently purchase the Toddy Cold Brew Coffee System and love it. It makes a larger quantity and comes with a handy container to store it in the fridge.
Related Posts:
Favorite Starbucks Recipes
Salted Caramel Hot Chocolate