Can We Offer Grace to One Another?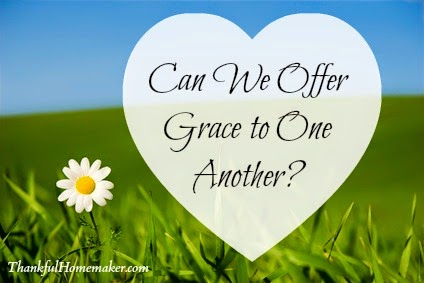 Today and the days following:
Can you offer grace to your sister in the faith and not make your standard her standard? The Bible is our standard and we are all in different stages of being sanctified.
Can you remember that we are all called to different paths in this life? We have different lifestyles, different budgets, different interests, different opinions on matters of personal preference and no one way is right in those areas the Lord has given us freedom.
Can you offer grace when someone says something you don't agree with and you take a strong personal offense? We have become a culture of overly sensitive people who can't handle when someone disagrees with us we are ready to cut them off or cut them down.
Can we take the time to encourage and spur one another in our roles as women instead of cutting one another down? If we spent half the amount of time encouraging as we do gossiping or slandering one another what a difference it would be in our relationships.
Can we humbly learn to take criticism and learn from each other without feeling someone is cutting us down? So many times we can learn and grow from others and we just shut down and don't listen or take to heart their correction. May we not be prideful people but remember the Lord did not leave us alone on this earth but gave us brothers and sisters in the faith who are here to help us grow in His ways.
Can you remember you are not the one called to be the judge of the world and your standard is not the one we are called to meet. We are called to live our lives before an audience of One as Christians and Jesus Christ is Who I am to live my life to please. (See Avoiding Improper Judgments)
Can you live a life of transparency before others and not be afraid to share your struggles and the sins you are dealing with. Many times that person needs to know they are not alone in their struggles and shame on us for being too prideful to share our weaknesses with others. No one is living a perfect life – don't live your life with a mask on.
Can we remember if we are Christians and have been redeemed by the Lord Jesus Christ through our repentance and faith in Him that we are now children of the God of the Universe. We have much to be thankful for and much to be joyful about. We have been saved from the wrath of God and the Lord is preparing a place for us in heaven right now.
If Jesus isn't enough – nothing will be.
So today let's live our lives to the glory of God. Let's not compare ourselves to one another but let us compare our lives against God's standard – His Word – the Bible. May we remember not to be concerned what other people think about us if we are living our lives to serve the only One whose opinion matters – Our Lord and Savior Jesus Christ.
If we took more time getting to truly know one another instead of assuming we know one another it would make a world of difference in how we see and treat and respond to one another.


But he gives more grace. Therefore it says, "God opposes the proud, but gives grace to the humble." Submit yourselves therefore to God. Resist the devil, and he will flee from you. Draw near to God, and he will draw near to you. Cleanse your hands, you sinners, and purify your hearts, you double-minded. Be wretched and mourn and weep. Let your laughter be turned to mourning and your joy to gloom. Humble yourselves before the Lord, and he will exalt you. Do not speak evil against one another, brothers. The one who speaks against a brother or judges his brother, speaks evil against the law and judges the law. But if you judge the law, you are not a doer of the law but a judge. There is only one lawgiver and judge, he who is able to save and to destroy. But who are you to judge your neighbor?~James 4:6-12
"We all want grace, but we cannot enjoy grace when there is an attitude of comparing."
~ Jerry Bridges ~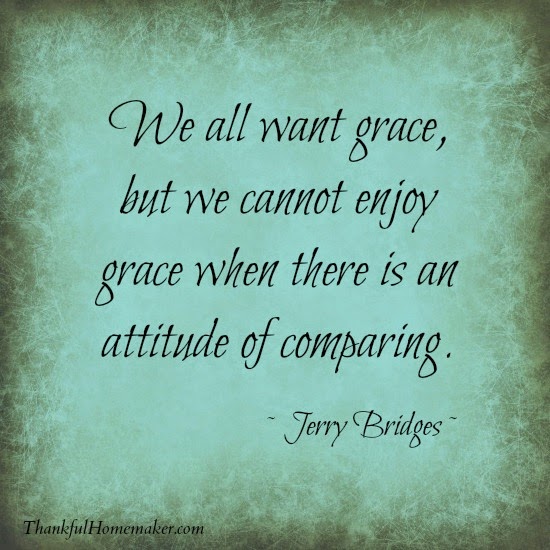 Related Posts:
The Blemishes and Faults of Others
Are Your a Hypocrite?
Encouragement Along the Way