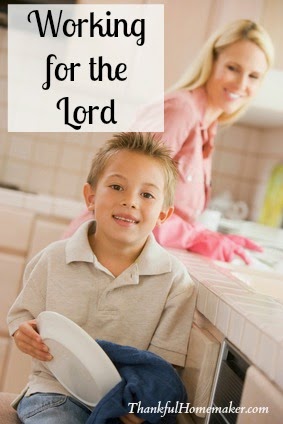 "Whatever you do, work heartily, as for the Lord and not for men, knowing that from the Lord you will receive the inheritance as your reward. You are serving the Lord Christ." ~ Colossians 3:23-24

My time this morning was spent in Colossians 3 and being reminded from Colossians 3:23-24 that my work is to be done heartily, enthusiastically, diligently, whole hearted service for the Lord and not for men – remembering that I will receive an inheritance from the Lord as my reward. I am serving Jesus Christ my King in all things.

Some encouraging thoughts today Mama as you do your work as unto the Lord:
"If a man is called to be a street sweeper, he should sweep streets even as Michelangelo painted, or Beethoven composed music, or Shakespeare wrote poetry. He should sweep streets so well that the hosts of heaven will pause to say, 'Here lived a great street sweeper who did his job well.'" ~Unknown
Your work may be tedious. You may have an employer who doesn't appreciate you or pay you what you're worth. You may want to quit. But you are working for Christ. Do your daily work so that your Master in heaven can one day say to you, "Good job. Well done." –H W Robinson

Today Christ calls, "Come, follow Me!"
Do not look back to yesterday;
Fresh grace He'll give to do His will,
His joy you'll find as you obey.
~D. De Haan

I love this reminder of the importance of serving God well in our every day tasks:

"The maid who sweeps her kitchen is doing the will of God just as much as the monk who prays – not because she may sing a Christian hymn as she sweeps but because God loves clean floors. The Christian shoemaker does his Christian duty not by putting little crosses on the shoes, but by making good shoes, because God is interested in good craftsmanship."
~Martin Luther


No service

for

Christ is insignificant

Get updates that are not posted on the blog by visiting Thankful Homemaker's

*There may be affiliate links in this post – please see my full disclosure policy here.