Deep Cleaning Your Bathroom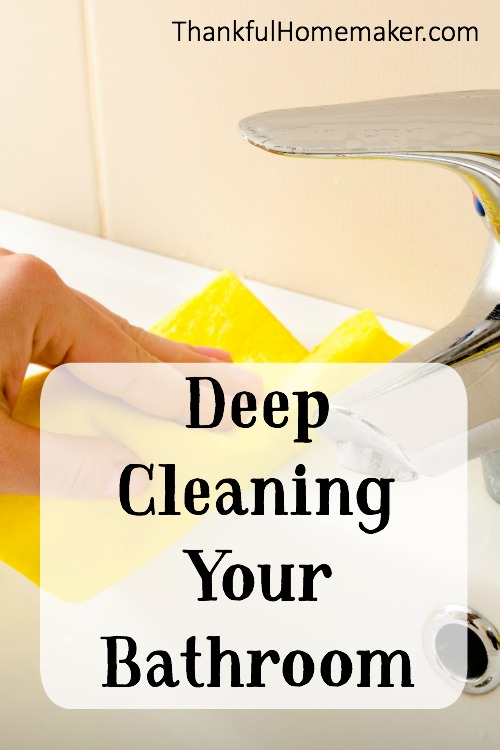 Who wouldn't love to walk into a beautifully clean bathroom everyday? If you have been participating in the Declutter, Organize & Beautify series with us you should have a bathroom that is free of clutter and a place of order and tranquility.
Tidying your bathroom daily makes it easier to do a deep clean of your bathroom. Every week you should take the time to thoroughly clean the toilet, sink, tub/shower and floor. Deep cleaning is something you should do at least every other month. My deep cleaning comes up when I Zone Clean. Because I have five zones in my home every room is deep cleaned every other month. I also encourage you to take the time to declutter one drawer when you do deep clean your bathroom to keep up your maintenance on all the hard work you just accomplished.
Supplies Needed:
Vacuum with floor and duster attachments
Below is a breakdown of how I deep clean my bathroom.
1. Use your washing machine to help you work. Wash your shower curtain and shower liner. Shake well and toss bathroom rugs in the washing machine if they are machine washable. Wash or vacuum your window treatments. Take blinds down and wash.
2. Clean the windows and screens in your bathroom. I like to vacuum the screens first and then wipe them down with a damp cloth.
3. Vacuum the fan vent cover and light fixtures. If you have light fixtures that you can wash remove parts, wash them and put back. Check for cobwebs while you are looking up.
4. Use the duster attachment on your vacuum to clean the dust off of photos, baseboards and and flat surfaces in your bathroom before you start cleaning. Don't forget the tops of doorways and any high flat surfaces you have.
5. Make a cleaning solution in a bucket of water to wash down, countertops, sinks, light switch plates, whirlpool tub decks, faucets and clean the outside of the toilet thoroughly – in the back and all the way down to the floor. If you can remove the toilet seat to clean it I would highly recommend you do so.
6. Scrub down the tub or shower walls while you are in the shower. Straighten up the toiletries while you are in there too. If you use a non toxic cleaner you can do this and save time while you are in the shower. If you don't have a handheld shower to rinse the walls make sure you take a plastic cup in the shower with you to help you rinse the walls down. Don't forget to clean the outside of your glass shower walls or doors if you have them.
7. Scrub the inside and inside rim of your toilet bowl. If you want to get it really clean I would grab a pair of rubber gloves and sprinkle some Bon Ami in the bowl, grab a good scrubbing sponge and scrub away. A quick tip is to pour a cup of vinegar and a good sprinkle of baking soda in the toilet and leave it overnight. Scrub the bowl sparkling clean in the morning.
7. Take a damp cloth and wipe down your baseboards in your bathroom. You can use a wood cleaner if you need to.
8. Clean the outside of your cabinets with a damp cloth or a wood cleaner. Give the knobs a wipe down.
9. Wipe all pictures, tops of doorways, shelves, knickknacks etc.
11. Dust and clean the bathroom door and doorknob.
12. Vacuum the floor. Make a new bucket of cleaning solution and wash the floor on your hands and knees. (You can use your mop when you do a weekly clean up). If you truly can't imagine washing the whole floor on your hands and knees then wipe down all along the edges on your hands and knees and mop the middle part of the floor.
13. Put up fresh towels, refill soap dispensers, replace toothbrushes if needed, check supplies and restock as needed.
14. Add some fresh flowers or a new candle. I like to keep a clear glass votives in the bathroom and add new candles when needed.
The whole task will probably take you less than two hours depending on the size of your bathroom. You can break down the tasks to do a little everyday for a week but I truly love accomplishing it in one day if possible.
As you are cleaning think about how good it will look when it's done and what a blessing it will be to your family. It is important for each family to determine what their level of cleanliness is – it will differ from home to home. I would encourage you married women to talk to your husband about his expectations in your home-keeping.
Helpful Resources:
Related Posts: