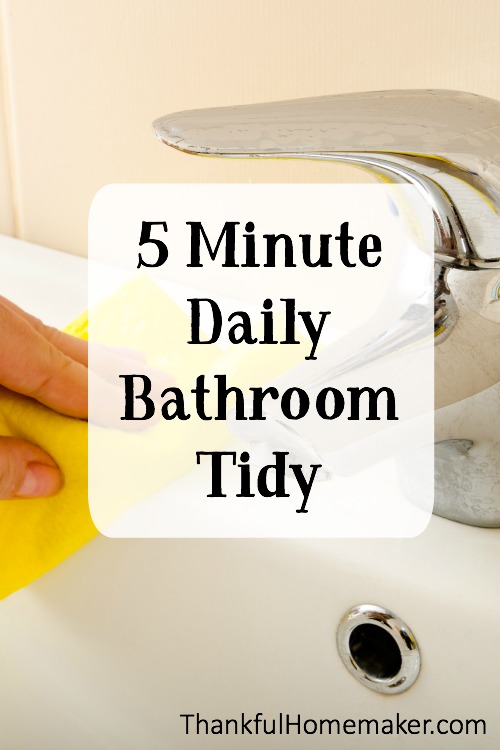 I clean my bathroom every day – yep you heard me – every day – but it only takes me 5 minutes. This is not a deep clean but a daily tidy. Here is my quick checklist to keep my bathroom looking company ready all the time.
Supplies Needed:
Spray Cleaner of your choice ( I use a Window Cleaner – Vinegar and water work great).
Toilet bowl cleaner (Vinegar or Liquid Castile Soap)
Rags or Paper towels
Step by Step Instructions:
Squirt toilet cleaner in the toilet bowl squish with toilet brush and let sit while you're showering
After showering squeegee the walls down and tidy the shower supplies.
Make sure all towels are hung in their proper place.
Give the toilet a final swish and grab some toilet paper, squirt with window cleaner and wipe the seat and sides down – flush the paper. You can use a paper towel if you prefer but a few sheets of toilet paper does the trick.
Wipe the mirror down with window cleaner and paper towels. Give the counters a squirt and wipe. (My Norwex window rags are a favorite for this chore, I keep them on hooks inside of the cupboard and wash them with my towels.)
Put items you use away and your clothes in the hamper or put away.
5 minutes tops to do all the above and have a clean bathroom for your family, yourself or company every day
Related Resources:
Deep Cleaning Your Bathroom
Homemaking 101 Series
Homemaking Binder Series
SaveSave