Homemaking 101 Series: Deep Cleaning Your Kitchen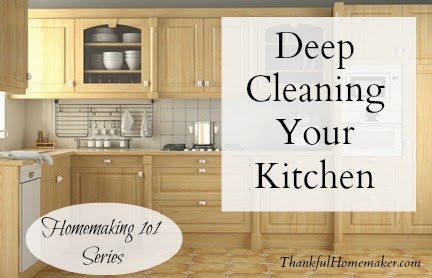 Dream with me a moment. You walk into your kitchen, and there is a place for everything. Dishes aren't piled up in the sink, cupboards are tidy, and the fridge is clean and orderly. Whipping up a meal is easy and an absolute joy. All your kitchen tools are right at your fingertips. It has the appearance of almost cleaning itself. Okay, this is a dream but not one that is too far off from reality. Your kitchen will never clean itself, you will never have everything in perfect order (if you do I want to know your secret!) and messes will be inevitable.
What we can achieve is order and a kitchen that is easy to clean by just keeping up with regular maintenance. It will make meal planning, cooking, putting away groceries, unloading the dishwasher and washing dishes, and tidying it up at the end of the day a joy.
In my Daily, Weekly, Monthly, and Yearly Tasks post, I shared that Tuesday's are my day to work in the kitchen. I want to share with you first what I try to do every day and week in my kitchen when I clean and then a list of some areas to clean and organize a bit deeper when time allows.
Daily Kitchen Tasks:
Empty Dishwasher
Load Dishwasher after every meal
Wipe Counters after each meal
Vacuum Kitchen
Wipe Down Sink Before Bed
Change Dishtowel
Run Dishwasher
Weekly Kitchen Tasks:
Wipe Down All Counters
Scrub Kitchen Sink
Clean Cooktop
Wipe Fronts of All Appliances
Clean The Toaster
Clean Inside of Microwave
Wipe Cabinet Door Fronts
Feather Dust Light Fixtures
Quick Tidy Inside of Refrigerator/Freezer (wipe shelves that need attention)
Wipe Down Kitchen Table and Chairs
Vacuum floor
Mop Floor
Deep Cleaning Tasks:
Empty and Clean out Fridge & Freezer
Tidy inside of cupboards (I try to do one or two shelves/drawers each week)
Disinfect trash can
Wash the light fixtures on the light over the kitchen table
Clean out china cabinet and dust inside shelves
Clean patio doors and patio door tracks
Clean out kitchen desk/re-organize
Wipe switch plates
Dust Baseboards
Don't let the list overwhelm you as most of the tasks on the weekly list take only a few minutes each. I haven't ever spent more than an hour cleaning weekly in my kitchen. Set a timer and see how much you can accomplish in thirty minutes or an hour.
Let's Talk Cleaning Tools: (Affiliate links below)
Having good cleaning tools makes the job easier. I use my duster attachment on my vacuum to go over baseboards, vacuum out drawers and whatever else may need to be dusted (tops of the fridge, light fixtures, any ledges you may have on cabinets, etc.). I still need a rag, but it makes me feel better to see that dust being sucked up.
My baseboard duster, dust mop, and floor mop have become invaluable tools in my weekly maintenance. BonAmi is a gentle cleanser for your sink. Glass cleaning rags ( I appreciate my ones from Norwex – they are an investment) keep my appliance fingerprints under control.
Make sure your kitchen sink is stocked with dish liquid, sponges and rags to wipe down your counters. Because I use my dishwasher quite frequently, I like to splurge on dishwashing liquid that smells wonderful – just a little treat. I keep a countertop cleaner, window cleaner, microfiber rag, paper towels, dishwasher detergent, and Bon Ami under the sink on a lazy susan.
On my countertop is always a lit candle and my iPod player has music going throughout the day. (I found a fun little rechargeable Bluetooth speaker that can follow me around the house.)
What are some routines or cleaning methods/systems you have used for your kitchen?