Teaching Our Daughters to Clean a Home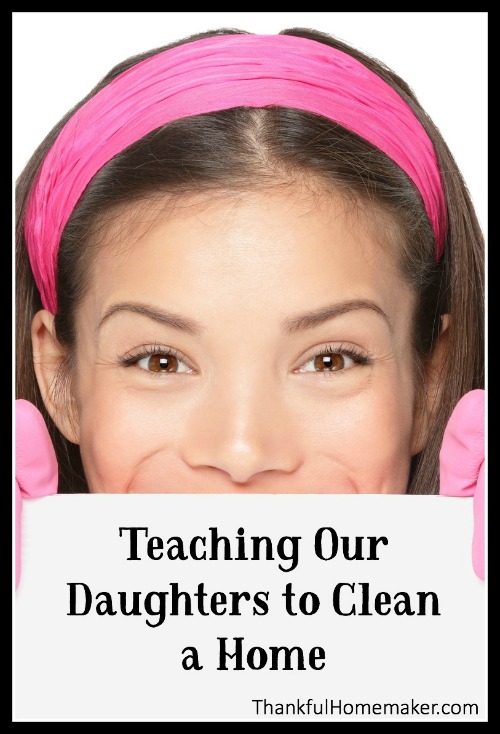 Not all of us come into marriage and motherhood with the understanding of how to clean a home. It can be a little overwhelming to the new bride and thankfully most of us started in very small surroundings so we could learn to clean and not be overwhelmed. One of the important skills your daughters (and sons too) need to learn is how to clean a home. It is not a natural skill for everyone to see what needs to be taken care of in cleaning a house.
[clickToTweet tweet="One of the important skills your daughters (and sons too) need to learn is how to clean a home. " quote="One of the important skills your daughters (and sons too) need to learn is how to clean a home. "]
One of the traits we have shared with our children many times is learning the skill of walking into a room and seeing what needs to be taken care of without being told. Are the shelves untidy? Pillows messed up? Does it need to be vacuumed? Fingerprints on the window? Dust on the table? The easiest way I found to train my daughter in the skill of cleaning a home was to work together with her one room at a time.
I keep a Homemaking Binder that has a breakdown of what needs to be taken care of in every room when we clean. Every task may not get taken care of in one cleaning but it is a guide as to what we accomplished and what we need to do the next time we clean that particular room.
This list was a great tool for training my daughter in how to clean a home. Over time it gave her the eyes to walk into a room and see what needed to be taken care of without looking at a list. We were able to work together to teach her the skills she needed to complete each task. Let me give you an example of what the list for a room may look like.
Kitchen Cleaning List:
▪ Straighten and clean the refrigerator
▪ Clean microwave inside and out
▪ Clean oven and cooktop
▪ Wash all items on countertop/use dishwasher for items if needed
▪ Wipe all fingerprints off walls/appliances/clean switch plates
▪ Polish cabinets
▪ Clean toaster
▪ Clean out china cabinet and dust thoroughly
▪ Wipe down kitchen table and chairs
▪ Clean pet dishes and tray
▪ Feather dust light fixtures
▪ Clean up kitchen desk area
▪ Tidy kitchen drawers frequently used
▪ Wash countertops
▪ Scrub kitchen sink
▪ Vacuum rugs and floor
▪ Dust baseboards and wash around baseboards
▪ Mop floor
▪ Straighten under the sink/clean garbage can
▪ Put out fresh towels
We enjoyed working together and dividing the list up so the room would be cleaned up in no time. Make the time enjoyable by listening to some upbeat worship music and put on a pretty apron. Cleaning truly is a joy and shouldn't be looked upon begrudgingly. We are preparing a home for our families – what joy we should have in taking care of what the Lord has blessed us with!!
In my binder are breakdowns for each room in my home just simply typed out and kept in sheet protectors so we can easily cross off the items with a dry erase marker. The next time that room rolls around for a deeper cleaning we know what tasks we missed and would be a priority for the next time.Taking the time to teach homekeeping skills to our daughters is a help to us now but it is a greater help as they become keepers of their own homes. It takes time to train, and many times may seem easier to do the tasks ourselves but this is missing what it means to "train up the younger women" (Titus 2:3-5).
Homemaking is truly a skill and requires time, energy and experience. My vocation is a wife, mother, and homemaker so my desire is to put my best into all that I do in my home to meet the needs of my family. God has given us, as homemakers, this work to do and the responsibility to train up our children and we are called to do it all for His glory and honor. May we not neglect the responsibility of teaching and training our daughters to be keepers of their homes.
The beauty of the house is order;
The blessing of the house is contentment;
The glory of the house is hospitality;
The crown of the house is godliness;
~Anonymous
What are some ways you work with your children to teach them how to clean and manage a home?
Related Resources:
Teaching the Younger Women to be Keepers of Their Homes
The Christian Homemaker's Handbook
SaveSave