Homemaking 101 Series: The Importance of Our Role & Evaluating Our Priorities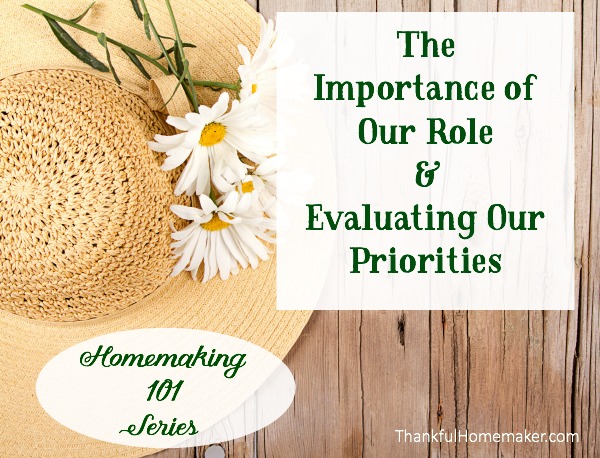 "Much of the world would agree that being a housekeeper is acceptable as long as you are not caring for your own home; treating men with attentive devotion would also be right as long as the man is the boss in the office and not your husband; caring for children would even be deemed heroic service for which presidential awards could be given as long as the children are someone else's and not your own."
~ Dorothy Patterson
Sadly in our culture and in our Christian circles not many would find the profession of homemaking on the top of their list to young women as a career choice that truly is the highest calling for a woman. Ask some young girls what they would like to be when they grow up and "homemaker" or "wife and mom" may not be their first choice.
We have bought into the lie of feminism that if we have a career outside the home we will find fulfillment and not just waste away the gifts and talents The Lord has give us. I can't think of a better place to bestow my gifts and talents than on the husband, children and grandchildren The Lord as blessed me with.
"Feminism is mixed up with a muddled idea that women are free when they serve their employers but slaves when they help their husbands." ~ G. K. Chesterton
We are pulled away from our homes in a myriad of ways. In order to serve our families best I want us to evaluate our priorities.
I want us to list everything that is on our "plate"
. From the most important to the least important. Literally sit down and make a list – here are some examples that are on my list: Child of God, Wife, Mother, Grandmother, Daughter, Sister, Granddaughter, Homemaker, Church Family Member, Blogger, Bookkeeper for family business, Abortion Ministry etc.
After you have your list sit down with your husband if you are married and see if there are any items you can or should eliminate that would give you more time for the most important items on your list
. Sometimes we don't realize all we have taken on until we take a step back and look at it on paper. Some of you may have lots of items to eliminate and others may have none. We all will have a different amount of items we can handle and obviously our relationships are the most important to pour our time and resources and
most importantly our love into
.The women I have learned and gleaned the most from in my Christian walk are those who have a love for their families and homes.
Remember – Meeting the needs of your family and taking care of your home are your ministries.
Words of Encouragement:
Let me leave you with these words from Dorothy Kelley Patterson that are directed to you single women out there too:
"A homemaker is prepared from creation to provide comfort, order, relaxation, peace and restoration in an atmosphere especially planned for her own family to provide a loving center to which everyone in the family will be drawn. Truly, there should be no place like home. Single women are not without the DNA from the Creator to create a prepared and welcoming place. Even without husband or children, a woman needs home to satisfy her nesting and nurturing instincts. A single woman too, should prepare a place of comfort, solace, and one in which to recharge her energies. As you create your home, you not only meet your personal needs, but you also receive those whom God send to you for ministry."
This week take the time to pray and ask the Lord to give you a heart towards home if you have found yourself lacking joy in caring for your home and family. Take the time to do the assignment and make a list of all that is on your plate and evaluate and pray over each extra item that may be negotiable.
If you are contemplating opportunities outside the home, I encourage you to ponder these wise questions from Carolyn Mahaney taken from her book Feminine Appeal. They are to help you in determining that you are making wise decisions and that you do not lose sight of your primary obligation to your home.
-What are my reasons for considering this opportunity? Are they selfish or God honoring?
– Will pursuing this venture glorify God and honor the gospel?
– Is this an undertaking that will help my husband?
– Will it enhance and enrich the lives of my family?
– Does this endeavor hinder my role as caretaker of my home?
The beauty of the house is order;
The blessing of the house is contentment;
The glory of the house is hospitality;
The crown of the house is godliness.
~ Anonymous
~~~~~~~~~~~~~~~~~~~~~~~~~~~~~