What is Biblical Hospitality?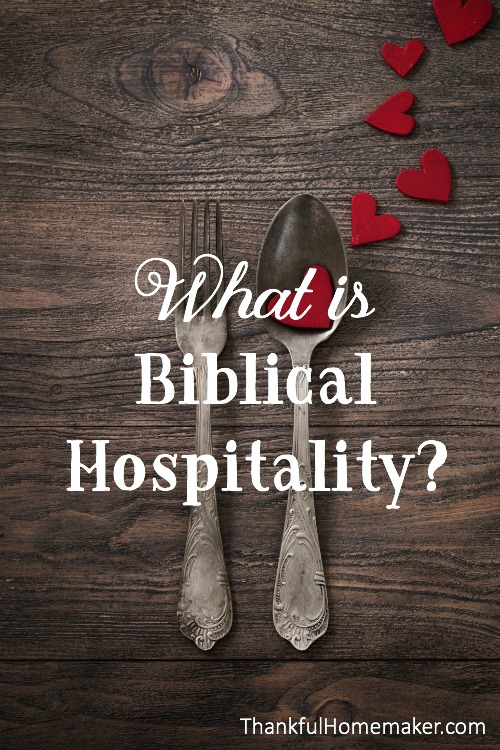 7 The end of all things is at hand; therefore be self-controlled and sober-minded for the sake of your prayers. 8 Above all, keep loving one another earnestly, since love covers a multitude of sins. 9 Show hospitality to one another without grumbling. 10 As each has received a gift, use it to serve one another, as good stewards of God's varied grace:
1 Peter 4:7-10
What does it look like to practice biblical hospitality?
How can we as Christians fulfill the command to practice hospitality?
The Cost of Hospitality:
When we open our homes to others it is going to cost us – time, service, and sacrifice. Our lives are all busy and in the midst of a tiring day I know the thought of having company can seem overwhelming at times. We just want have a quiet evening at home alone and sometimes just don't feel like being around other people.
We can tend to focus on the difficulties of being hospitable. It takes time, and work to tidy the house and cook a meal, we worry too much what others will think, or we just enjoy our privacy too much. Being naturally selfish people, we tend to focus on ourselves, and if we are truly honest we like our time and space.
The verse above in 1 Peter gives us some great principles in practicing biblical hospitality. One way I have defined biblical hospitality is showing the love of Christ with a spirit of service and generosity.
There are many verses in God's Word that command us to practice hospitality (Romans 12:13, 1 Peter 4:9, Hebrews 13:2, 3 John 8, 1 Timothy 5:10) but only through the power of the God's Word and the work of the Holy Spirit in our lives can we practice true biblical hospitality.
What comes to my mind when I think of the book of 1 Peter is Christian suffering and in the midst of this book Peter is writing to believers of the hope to come. The encouragement to love one another with a love that the world does not know and to give a glimmer of the love that Christ has shown to each of us is encouraged in the verses above (1 Peter 4:7-10)
Implementing Hospitality:
We need to be purposeful and prayerful in our planning for biblical hospitality. Make a list with your family about who you would like to have over for a meal or dessert and get some dates on the calendar. For some it may be once a week, for other families it may be once a month. That is okay but I encourage you to just do it!
A perfect home is not commanded just an open home. I love the terms visitors or friends instead of company. When I see the word company I think of entertaining. When your heart is focused on the eternal rather than the temporal it will make your time with others one of freely and joyfully being able to open up your home.
As you have time with other believers ask how you can pray for them. Direct the conversation to the spiritual asking questions like – How did you come to know the Lord? A great book with spiritual questions is 201 Great Questions by Jerry Jones or I have a post Cultivating True Christian Fellowship that has some great questions too.
Opening our homes to believers is a way to share in our lives together and encourage and build one another up in the faith. Our time together should be spent in praying for one another, and sharing what the Lord is doing in our lives. My favorite is sharing testimonies of how the Lord opened our eyes to the wonderful saving gift of His Son Jesus Christ.
In opening our homes to our neighbors and friends around us who do not know the Lord our homes should be a testimony of the love of Christ. We also need to open our mouths and share the gospel verbally.
So faith comes from hearing, and hearing through the word of Christ.

Romans 10:17
The reminder in 1 Peter 4:10 that all we have received is a gift from God and it is not ours reminds us to be faithful stewards of God's gifts. Everything we have our time, home, food is on loan from Jesus to be used for His purposes in furthering His Kingdom and for the good of others.
The Hope to Come:
We need to practice hospitality with the end in mind – the reminder that the Lord is preparing a place for us in heaven where we will feast with the King, seated at His table and enjoy His presence forever.
Let not your hearts be troubled. Believe in God; believe also in me. In my Father's house are many rooms. If it were not so, would I have told you that I go to prepare a place for you? And if I go and prepare a place for you, I will come again and will take you to myself, that where I am you may be also.
Related Resources: