Attitudes of a Transformed Heart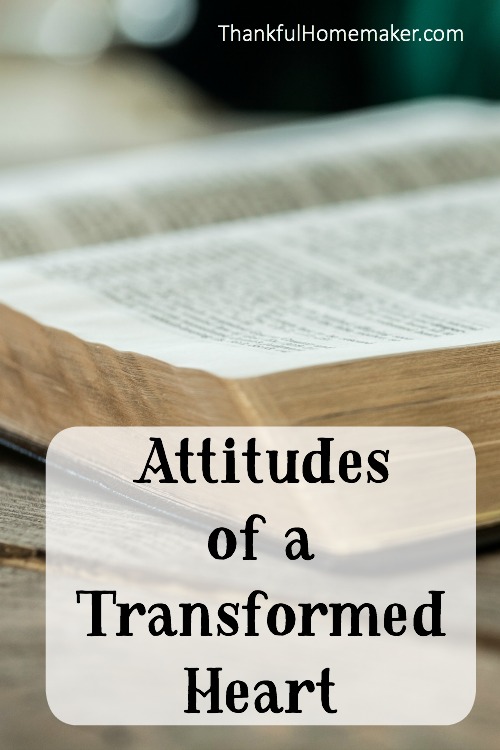 Do not be conformed to this world, but be transformed by the renewal of your mind, that by testing you may discern what is the will of God, what is good and acceptable and perfect.

Romans 12:2
I'm sharing a wonderful three part series from Martha Peace on Attitudes of a Transformed Heart from the The Institute for Biblical Counseling and Discipleship.
Here's the description below from the website and please note it is not just for counselors to use. This is everyday, practical, live out our faith guidance to help us apply God's Word to our lives and various situations we encounter in our marriage and families:
"The attitudes and actions of a transformed heart flow out of a life transformed by the Holy Spirit. This 3-part series covers what to teach your counselees regarding loving God and others, discusses biblical principles and provides practical application."
There are many other great resources on this site under the resources tab to listen to online for free.
Take a listen while you're cleaning or washing dishes. I did that but I want to sit with all three messages with a notebook in hand. This is a series you will want to share with all your women friends.
Martha Peace – Attitudes of a Transformed Heart:
Some Additional Resources to Encourage You:
"Put On, Put Off" Bible Study – Free PDF printout
Sanctification Bible Study – Free PDF printout
Attitudes of a Transformed Heart Book
4 Love is patient and kind; love does not envy or boast; it is not arrogant 5 or rude. It does not insist on its own way; it is not irritable or resentful; 6 it does not rejoice at wrongdoing, but rejoices with the truth. 7 Love bears all things, believes all things, hopes all things, endures all things.

~ 1 Corinthians 13:4-7