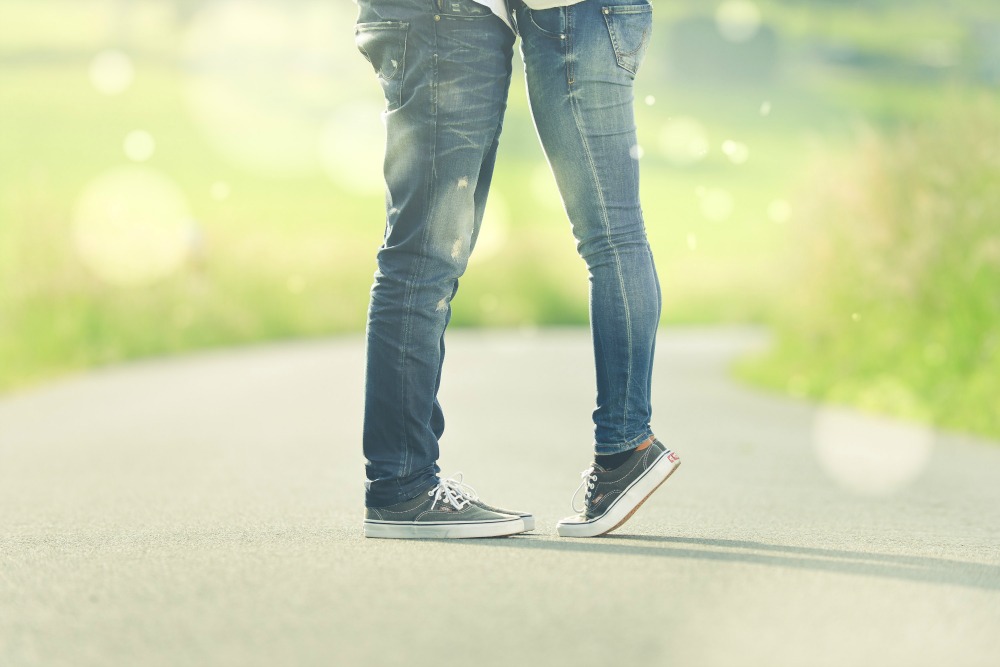 The reality is most of our marriages we live in the ordinary day-to-day. I love just spending time with my husband at home whether it is eating dinner, watching a movie, or sitting in bed next to each other reading.
As I'm sharing this post, I'm not saying marriages need a date night. I don't think it's a necessity. Our marriages are made up mostly in mundane moments. We grow together by just doing life together. We need to continue to seek the Lord and honor Him in our marriages in every moment. We need to be reminded that the Lord uses these everyday moments to grow us more and more into the likeness of Christ.
We grow together by just doing life together.
My husband and I get many moments together now since our children are grown but sometimes we like to think through how we can explore a bit more our local area together or just get a special night out once in a while. We do love to get out and have fun together.
One way we've done this is instead of exchanging gifts for Christmas, we sit down and plan a year of date nights. Just one a month and they are all very budget-friendly or even free. It gives us something to look forward to, and we try to explore local establishments to get to know our community a bit better.
If you'd like to get some ideas for a simple night out together, I'm sharing some ideas from our years past on what was on our list. Below is the simple photo of the first "date nights for a year" I gave to my husband, and now we plan our year together.
Here's the note I put inside the "A Year to Remember Open First Envelope":
To My Sweet Douglas,
This year I want to give you the gift of time – just you and me! Enclosed you will find 12 envelopes, one for each month of 2014. Inside each envelope is a pre-planned date for just the two of us. Some will be local places, some we will need to travel, and some will be at home together. At the beginning of the month, we will open the envelope together and set a day to enjoy that activity together. I love you some much and can't wait to spend time this special time with you!
Excited for our journey together in 2014!
Much Love,
Marci xoxoxox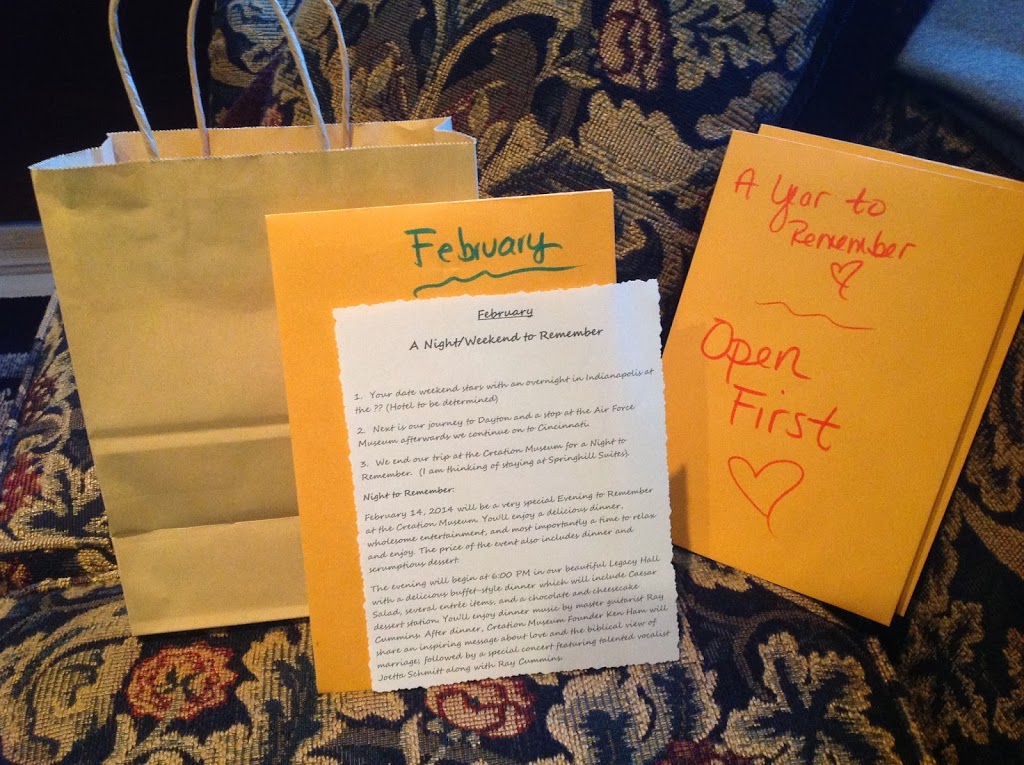 70 Date Night Ideas
A walk in our local town in the snow.
Take a local cooking class together.
Camping trip.
Picnic in a local park.
Ice cream cone and a stroll.
Hike at a local nature center or park.
Game night at home and pizza.
Movie night at home with homemade popcorn. (Love our stove-top popcorn maker)
Bowling
Make a fun photo album with photos from your phones of the two of you. We love Chatbooks for this one.
Cooking a fun dinner together at home (we love Blue Apron for this one).
Coffee date and browsing at a local bookstore (who doesn't love a bookstore!).
Be a tourist in your town day.
Bike ride and picnic.
Spa morning (or evening) – Exercise together, give each other massages, take a warm bath together with candles and soft music and make a healthy breakfast (or dinner) to enjoy after.
Grocery shop together for a fun dinner to make at home.
Coffee date with a list of questions to discuss together.
Afternoon at a local museum.
Bake cookies together and have a hot chocolate and cookie evening at home together.
Attend free summer concerts in your community.
Camp in your backyard and cook all your meals outside that day. S'mores for sure at least!
Spend a day at the beach whether you're near a lake or the ocean.
Attend an outdoor movie showing in your community.
Take a walk together and hold hands.
Coffee dates at home are the best. Buy or bake some biscotti or a fun dessert to share.
Find local landmarks in your town and visit them.
Watch home movies together.
Bring out your old school video games and have a game night.
Fly a kite (my hubby keeps one in the car handy in case the opportunity arises).
Costco browsing is a favorite date time.
Learn a new cooking skill together from YouTube (how we learned to cook and eat crab legs lol).
Workout together.
Dinner in front of the fireplace at home or somewhere special (like your bedroom).
Watch a movie outside on your laptop or tablet.
Hang out at your local library.
Volunteer together – plenty of opportunities in your church or community.
Work on a puzzle together.
Start a book club for the two of you. Pick a book to read and then discuss it together at a fun location.
Ice cream sundae night at home. Plan some fun toppings and make homemade ice cream.
Find free local events from concerts to farmer's markets, parades, or classes.
Go stargazing. Learn to identify the constellations.
Watch the sunrise or sunset together at a fun location. Maybe a beach or park. Take a fun picnic to enjoy together or just a warm beverage.
Tour a nearby community you're not familiar with. Have lunch or just a coffee and stroll together.
Make a backyard campfire complete with S'mores.
Browse a local Christian bookstore or an online one and find a good book on marriage to read together and discuss.
Slow dance together after a candlelit meal at home.
Play a game of basketball in your driveway.
Have breakfast in bed together one morning.
Pray together.
Have a luau in your own home. Pick up some Hawaiian lei's and eat a barbecue dinner in your bathing suits on beach towels in your bedroom after kiddos are asleep.
Watch your wedding video together on your anniversary and reminisce over your wedding photo album.
Swing on the swings at your local park.
Visit a local botanical garden.
Go canoeing or kayaking together.
Have dinner at a local Jazz club together.
Watch a TV series together. We love picking out the next series to watch together.
Plan a romantic dinner outside with table linens, candles, and music.
Put together a song playlist of your favorites to listen to together on Spotify or Pandora.
Have an ongoing game tournament. Play Yahtzee or Uno or whatever you love and keep a tally of your scores.
Go to an amusement park or head to a local arcade and just play!
Go ice skating or roller skating.
Picnic and visit to your local zoo
Watch a classic movie like Casablanca or The Princess Bride.
Take a drive together on a pretty fall day.
Attend a local play.
Plan your goals for the year together.
Explore a new hobby or sport together – art classes, golf, etc.?
Play miniature golf together or head to a driving range.
Splurge on an overnight getaway if you can – even somewhere local. Maybe a quaint bed and breakfast?
Your turn. What are some of your favorite date night ideas?
70 Date Night Ideas
SaveSave
SaveSave
SaveSave
SaveSave
SaveSave
SaveSave