Homemaking 101 Series: Declutter, Organize & Beautify One Week at a Time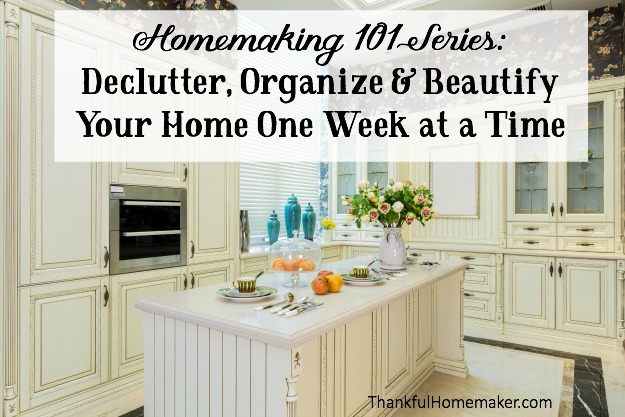 I have a confession to make – I probably have 20 books on how to organize my home. I have read some, skimmed some and not even looked at some. There have been bits and pieces I have gleaned from them but I can tell you the easiest way to organize your house is to get rid of the clutter.
This seems like such a simple concept but why do so many of us live in the fear of having company? Never satisfied in our homes? Always thinking that the next item we buy to decorate or make our lives "easier" will be just the fix we need. Only to find out we have too much to take care of and don't need or use half of it.
We all have clutter. Areas in our homes where items accumulate that we don't need or use. This next series of posts in the Homemaking 101 Series today is to help us to get rid of the clutter in our homes. My favorite reminder from Flylady is "you can't organize clutter". Every week we will have an assignment of various areeas in our homes to declutter, organize and beautify.
Rooms and Areas We Will Tackle Together:
Kitchen – Cupboards, Counters, Sink, Under Sink, Kitchen Table, Drawers, Pantry & Kitchen Desk.
Main Bathroom – All storage areas in the bathroom, sinks, shower, tub areas and simplifying for easy cleaning.
Master Bedroom & Master Closet – Included in this one will be closet organization along with dressers, nightstands, under bed storage, books and making your bedroom a haven.
Kids Rooms – Closets, desks, beds, under beds, toys and books. Working to make the room one your children (if age appropriate) can clean themselves.
Toy Storage – Decluttering, storing, rotating and making them easy for children to pick up after themselves.
Half-Bath or Powder Room – Tidy under sink, minimize items and set-up to keep supplies stocked and bathroom clean daily.
Family/Living Room – Declutter table tops, game storage, DVD's, CD's, magazines, books, photo albums, simplifying the space for easy cleaning.
Laundry Room – Organizing dirty clothes area, laundry supplies, decluttering unused supplies, sorting iron/ironing board, drying racks and appliance maintenance. Making the room a joyful spot to do laundry.
Entryway/Mud Room – Tidy your main entry where guests enter and we will organize and work through if you have a back entry where your family leaves their shoes, coats etc. We will declutter, organize, clean and add a touch of warmth and beauty to your entryways.
Our Vehicles – As busy mama's our cars can get a bit neglected. We will talk about important items to have in them and how to store our vehicles to be kid friendly and easy to keep clean.
Important Info:
Every day for the week (please take Sunday's off) we will set a timer for 15 minutes and spend that time decluttering, organizing and beautifying one area of our home. This is not meant to overwhelm or add to your already busy day. The hope is it will simplify your days by having an easier house to clean and take care of in less than a few months time.
Some rooms we will spend more than one week in. (An example is the kitchen – there are three weeks planned to go though it together.)
Once the clutter is removed and the room is organized, we'll work together on how to add a little order and beauty to the room.
Deep down we all want our homes to be welcoming and to reflect beauty and warmth.
During these series of posts we'll have more additions to the Homemaking 101 Series in the areas of budgeting, taming the laundry monster, how to use a planner to be more efficient, caring for yourself, easy hospitality, meal time routines and many more.
We will start on Monday, July 20th in the Kitchen and spend the next three weeks together decluttering, organizing and beautifying our most used space in the home. I will work to put encouragement and small tasks up on my Facebook page to keep you motivated.
If you're joining in with us please leave a comment here or on my Facebook page. It is a great place to share our goals and tips together so we can work together in community. Gather your in person girlfriends and get them on board with us too.
Have any ideas on posts you would like to see in this series? Please leave a comment below.
Visit all the posts in the Homemaking 101 Series here.
Visit all the Posts in this Declutter, Organize & Beautify Your Home Series here.
Don't miss a post by subscribing at the bottom of the post and grab a copy of my eBook for free too!
Follow along on Pinterest too!
Follow Thankful Homemaker's board Homemaking 101 Series on Pinterest.