Memorizing Colossians – April Encouragement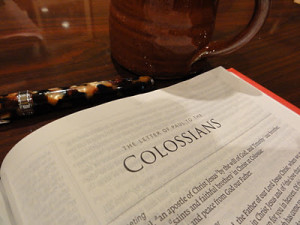 This is our fourth month in Colossians and I am hoping we still have some ladies with us. I am working slowly and strategizing new ways to keep my memorizing fresh and steady. I have been walking in the mornings since the weather has been so beautiful and taking my verses along. Walking early makes it nice to talk out loud to myself without anyone around. Saying the verses out loud makes a huge difference in my retention. I must confess that I am behind in the schedule and am working to slowly to get back on track.
If you have tips on memorizing please share them with us on Facebook or in the comments below.
What Scripture Should We Memorize?
She references 2 Timothy 3:16-17:
All Scripture is breathed out by God and profitable for teaching, for reproof, for correction, and for training in righteousness, that the man of God may be complete, equipped for every good work.
2 Timothy 3:16-17
We know from looking at this passage that all scripture is profitable but what are some important passages. Susan gave some examples for various difficulties in your life. Are you depressed, Psalm 42 and 43 are great to memorize. Is anxiety a problem? Memorize Matthew 6. Are others difficult for you to love? I Corinthians 13 is recommended.
If you noticed she recommended whole chapters and not just verses. Memorizing single verses is okay but they cannot be taken out of context. Memorizing whole books or chapters of God's Word keeps the verses in context.
As I have been working on Colossians I have been blessed by slowing down and taking the time to read through the book as a whole on a regular basis. John MacArthur has a great sermon series on Colossians that I highly recommended. By the end of the year my hope is that I have a thorough understanding of Colossians and a deeper love for my Savior.
Overview of April's Memorizing Schedule
April 1
Colossians 1:27-29 / Review Colossians 1:1-26
April 8
Review Colossians Chapter One
April 15
Colossians 2:1-2 / Review Colossians Chapter One
April 22
Colossians 2:3-4 / Review Colossians 2:1-2
April 29
Colossians 2:5-6 / Review Colossians 2:1-4
"I know of no other single practice in the Christian life more rewarding, practically speaking, than memorizing Scripture. . . . No other single exercise pays greater spiritual dividends! Your prayer life will be strengthened. Your witnessing will be sharper and much more effective. Your attitudes and outlook will begin to change. Your mind will become alert and observant. Your confidence and assurance will be enhanced. Your faith will be solidified"~ Chuck Swindoll

Please join us at any time – your year does not have to start in January

Related Posts:
Colossians Series
Colossians Introduction & January Schedule
February Encouragement & Schedule
March Encouragement & Schedule