Memorizing Colossians – May Encouragement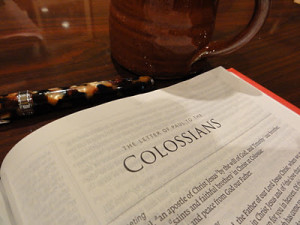 I am enjoying my time memorizing the Book of Colossians so even if I am the only one reading this post I am going to continue on for the year. Being able to have the resources at hand in this series of posts has been a help to me and I have been blessed by studying on the benefits of memorizing scripture.
When Should we Memorize Scripture?
The Answer – At All Times!!
"This Book of the Law shall not depart from your mouth, but you shall meditate on it day and night, so that you may be careful to do according to all that is written in it. For then you will make your way prosperous, and then you will have good success."
We should memorize scripture when we are doing dishes, showering, taking a walk, driving in the car, cleaning the house, doing laundry or cooking. Our minds truly have A LOT of idle time so why not fill it with God's Word. It is really hard to sin when you are meditating on the Word of God.
"I have stored up your word in my heart, that I might not sin against you."
May you be encouraged and continue on no matter where you are right now. If this is the first post you are reading please join in with us and start today to work on "hiding God's Word in your heart".
Overview of May's Memorizing Schedule
Colossians 2:5-6 / Review Colossians 2:1-4
Colossians 2:7-8 / Colossians 2:1-6
Colossians 2:9-10 / Colossians 2:1-8
Colossians 2:11-12 / Colossians 2:1-10
Colossians 2:13-14 / Colossians 2:1-12
The law of the LORD is perfect, reviving the soul;

the testimony of the LORD is sure, making wise the simple;

the precepts of the LORD are right, rejoicing the heart;

the commandment of the LORD is pure, enlightening the eyes;

Tweet

This Post is Linked to:
Southern Mama & Wife