Preparing a Place of Peace and Joy for Your Family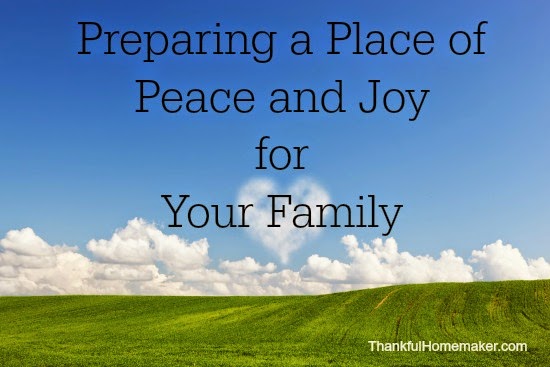 Mama's the Lord has given us such an important calling to the care of our homes but I'm not just talking about the cleaning and the cooking side but the whole atmosphere of your home.
Jesus tells us in John 14:2 He is going to prepare a place for us. Our Lord is a homemaker. We too are homemakers and although our earthly home can never be as magnificent as our heavenly home we nevertheless have a calling to fulfill while we are in this temporary dwelling place.
We are daughters of Eve and her name means "life-giver" – we were created, as women, to be life-givers.
"Not every woman will marry. Not every woman will be able to bear children. And yet all women have the God-given capacity to live in ways that beautifully and purposefully express their life-giving feminine design -their helper or cooperative approach to tasks, their ability to multitask, their nesting instincts and creative spirit. A woman's body was made, in part, to bring life into the world, and that's a good thing from God's point of view. However, the common purpose for all woman is to glorify God in whatever circumstances and boundaries of life we find ourselves, trusting him to show us how we can best use our gifts for him."
How can we be the life-givers in our homes that the Lord created us to be? How many times are we life-suckers by our poor attitudes, complaining spirits, self-centered ways, selfish desires, our bouts of self-pity, anger, harboring bitterness or discontentment to the situations the Lord has called us to?
God created our homes as a place to know Him and make Him known to others, and to learn to love and serve one another. It is where we will be continually removed of the dross (sin) in our lives so the pureness of Christ can reign in and through us.
It is where true beauty can be displayed as we walk in the path of God's will for our lives. As we nurture and care for our families with the joy of knowing this is God's will for us, Christ's beauty will shine through.
True contentment comes by knowing who you belong to and being content in who He designed you to be.
Our homes can only be a place of true peace to the extent in which Christ reigns.
When there is less of us and more of Him the more peaceful our homes will be and the more they will reflect the beauty of what is to come.
In my Father's house are many rooms. If it were not so, would I have told you that I go to prepare a place for you?
John 14:2
Earth has nothing more tender than a woman's heart when it is the abode of piety.~Martin Luther
Have you embraced the role of life-giver the Lord has called you to?
What are some ways you can be more intentional in preparing a place of joy and peace for your family?