Thanking God in the Negative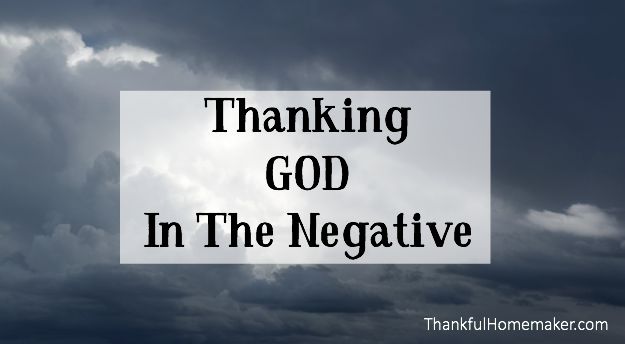 The message excerpt I'm sharing below is taken from a radio program that I believe every parent should listen to. It is by Ney Bailey and she is sharing a program entitled "God is in Your Most Desperate Situation" at Revive Our Hearts.
We are reminded that once we become Christians we are still going to deal with difficult situations and because of that, we are going to deal with varying emotions. Ney reminds us in this message that we are to put our feelings and our trust in the Lord together. They do not operate separately.
We need to trust God in the midst of our feelings.
One of the ways we are best able to bring the Lord into our negative emotions and circumstances is to give thanks and praise Him.
If you are dealing with a difficult relationship, I know you will be encouraged by this message.
pray without ceasing, give thanks in all circumstances; for this is the will of God in Christ Jesus for you

~ 1 Thessalonians 5:17-18
I have been dealing with a difficult circumstance in my life and this has reminded me that it is God's will to give thanks in all circumstances. He is growing and molding me more into the image of His Son during these difficult times. He is growing me in my trust and dependence on Him. He is keeping my eyes focused on the eternal and not just the temporal. He is reminding me I am not in control of all things but He is.
I found myself too many times sinning in my thoughts and could sense my heart becoming bitter over the situation. As soon as I would seek the Lord for forgiveness and give thanks for this trial, my eyes would again be focused on Him, joy was back in my life and I was again praising the Lord for His goodness to me in all things.
And we know that for those who love God all things work together for good, for those who are called according to his purpose.

~ Romans 8:28
The example below is just one from the message but I encourage you to listen to all (or read the transcript) of "God is in Your Most Desperate Situation". The two-part series entitled, "God in the Negative" is worth your time to listen too.
Except: God Is In Your Most Desperate Situation
:
"Now, I have heard about giving thanks for years and have practiced that. But I heard a story a few years ago that helped bring this home and make it very practical to me. I was watching television one morning, and I heard a woman tell a story and this is what she said.
She said she and her husband had gone to a Christian retreat, much like this one, and they heard a speaker talk about the fact that they needed to praise God and thank God for everything in their lives, especially for the most difficult things. They had never heard about that before.
As they were going home, they said, "Well, you know what the most difficult thing in our lives is, it's our son." They had a seventeen-year-old son that had never given them anything but trouble. He had been a thorn in the flesh to the mother, to the father, to his brothers and sisters. They had done everything they knew to do with him, and it just simply had not worked. So on the way home, for the very first time, they thanked God for their son. They praised God for their son, and they committed themselves to do that.
As they drove home, their son had been home alone that night. As they drove into the driveway—they lived in a ranch style home—every light in the house was on, all across the house. They drove in the driveway. They said, "Father, we praise You, and we thank You for our son. We even praise You and thank You that the lights are on."
Then they went into the kitchen and they said, "There was the biggest mess you've ever seen." Out on the counter were ice trays and Coke cans. And there was bread and mayonnaise and mustard and lunch meat and cookies and potato chips and even cereal and a cereal bowl, and milk. They stopped, and they said, "Lord, we praise You, and we thank You for our son. We even praise You and thank You for this mess."
Then they went into the family room. The den and the television was on and there were papers strewn all over and there were leftover Coke cans and cookies and sandwiches. They stopped and they said, "Lord, we praise You, and we thank You for our son. We praise You, and we thank You for this mess."
They said it looked like he had gotten undressed on his way to his room, because there were his shoes, his socks, and his trousers. They continued to praise God and thank God for their son all that day, the next day, the next day.
Sunday afternoon, there was knock on the bedroom door, and the son said, "Mom, Dad, can I come in and talk to you?"
They said, "Sure, son, come on in."
He came in. He sat down on the side of the bed, and he said, "Mom, Dad, you know, I've been doing a lot of thinking, especially lately." And he said, "I've been miserable and unhappy and frustrated as long as I can remember. I can't take it out on my friends, because gosh, I need my friends, I gotta be nice to my friends. I can't take my hostility out on my teachers, because I want to make at least halfway decent grades. The thing I realized, Mom and Dad, is that I've been taking it out on you and the family, and I just want to tell you I'm not going to do that anymore."
Seventeen years, eighteen years, nineteen, twenty, twenty-one. When he was twenty-one years old, this mother relayed this story to a Christian psychologist just as I have told you. And she said to him, "To what do you attribute the fact that from the time we began to praise God and thank God for our son, from the time he came in and said that to us, he has never once reverted to his old behavior?" And this is what the Christian psychologist said that was life-changing for me.
He said, "I attribute it to the fact that when you praised God for what you didn't like, when you thanked God for what you didn't like, you brought God into the negative, and you released His power to work."
And I thought, That's fantastic! We don't thank God for the negative because we don't feel thankful for it, and it's like we keep the lid on, and we don't let Him in there. I believe that we become bitter to the degree we don't give thanks. To the degree we're not praising God and thanking God now for the things that are happening to us, to that degree, we're becoming bitter. And I don't want to become a bitter old woman, so I know that I need to praise God and to thank Him now. We bring God into the negative by giving thanks and by praising Him."
~ Read or listen to the whole message here
Final Thoughts:
Is there a situation you are currently dealing with that needs you to speak life into? Do you need to stop the negative and critical thoughts and start building up and encouraging? Are you seeking the Lord and asking Him for help and remembering He is the only hope to bring life into the situation?
I know I wasn't just a few days ago but my eyes are back on Him and I will go forward and continue to ask Him to help me to give thanks and speak words that encourage.
Love,
Marci